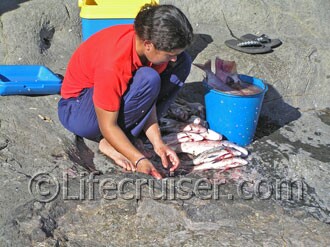 Theme: Plastic | Next week: Paper
PhotoHunt in Technorati
A local girl at the Canarian island of Fuerteventura in Spain, taking care of the captured fish that day.
Captain NotPlastic Lifecruiser
PS. EvNucci is back! So she started now to guide us at awesome ♥ Maui – with Murphy's law – be prepared for more to come!

Last Cyber Cruise Event:
♥ Gaustadtoppen and Rjukan waterfall: Norwegian Natural Treasure
♥ Mountain Life – The spirit of the Norwegian soul
Coming Cyber Cruise events:

♥ The Royal Swedish Home Park (Sun 16 Sept)
♥ The Royal Swedish Home Part 2 (Mon 17 Sept)
♥ Chinese Dance Show (Tue 18 Sept)
♥ Maui, Hawaii, US(14 Sept & forward)
♥ Uppsala, Sweden (Sept)
♥ Norwegian Mountains Hemsedal(End of Sept)
♥ France
♥ Mexico
♥ Fulu Fjäll (mountain), Sweden
♥ Denmark – Germany
♥ Algarve, Portugal
♥ The East Coast of Scotland
♥ The West Coast of Scotland
♥ Fuerteventura, Spain
♥ Riga, Latvia(Second half of October)
♥ Panama Canal (November)
♥ Buenos Aires – Argentina (Second half of December)
♥ Foz do Iguazu, Brazil/Paraguay (Second half of December)
Do you want to hop aboard at next event?
Read about Cruiser Grades.

Read more about Lifecruiser cyber cruise.
Lifecruiser Archive 2007
Lifecruiser Blogroll Code
Cyber Cruise Souvenirs
Lifecruiser Cyber Cruise in Technorati

© Copyright
Lifecruiser.com
. All rights reserved.