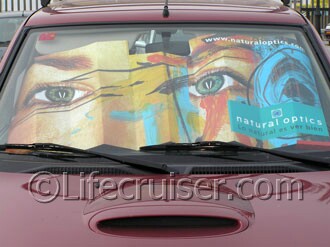 Theme: Paper | Next week: Original
PhotoHunt in Technorati
This was a bit unusual way to use a paper, wouldn't you say? We spotted this car in Fuerteventura, Spain and thought it looked very funny.
The car keep an eye on you… *giggles*
Captain ♥ Lifecruiser
Today's Cruise Port:
High Fly Hemsedal Norway Morning Report

Last Cyber Cruise Event:
Chinese Food Song and Dance in Oslo
Välkomna till Fulufjället
Coming Cyber Cruise events:

♥ Uppsala, Sweden (Sun 23 Sept)
♥ What to to if you only have one day in Chicago (Mon 24 Sept)
♥ Yucatan, Mexico (Thu 27 Sept)
♥ The Lake of Garda (Sun 30 Sept)
♥ Denmark – Germany
♥ Algarve, Portugal
♥ The East Coast of Scotland
♥ The West Coast of Scotland
♥ Fuerteventura, Spain
♥ Miami, US (November)
♥ Panama Canal (November)
♥ Buenos Aires – Argentina (Second half of December)
♥ Foz do Iguazu, Brazil/Paraguay (Second half of December)
♥ Riga, Latvia(Changed!)
Do you want to hop aboard at next event?
Read about Cruiser Grades.

Read more about Lifecruiser cyber cruise.
Lifecruiser Archive 2007
Lifecruiser Blogroll Code
Cyber Cruise Souvenirs
Lifecruiser Cyber Cruise in Technorati

© Copyright
Lifecruiser.com
. All rights reserved.