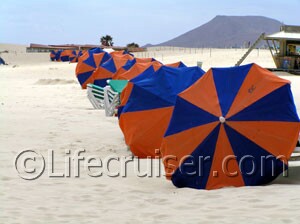 Theme: Row | Next week: Two
After last night of rockin' partying with the cruisers I need some relaxing and what could be better than to dream away to this gorgeous beach at the Canarian island Fuerteventura…? *sigh*
I heard some rumors that Tor is having one more cruise party tonight – do you think I'll succeed to get in shape…?
…and what on earth am I going to wear???
Get back here later to find out…
PhotoHunt in Technorati

Captain Row(dy) Lifecruiser

Last Cyber Cruise Events:
♥ The Rolling Stones Concert
♥ Monaco
New Cyber Cruise events::

♥ Edinburgh Festival, Scotland, Monday 13 Aug

Coming Cyber Cruise events:

♥ Dröbak, Norway
♥ Fulu Fjäll (mountain), Sweden
♥ Denmark
♥ Algarve, Portugal
♥ Scotland (several posts)
Do you want to hop aboard at next event?
Read about Cruiser Grades.

Read more about Lifecruiser cyber cruise.
Cyber Cruise Calendar 2007 (not updated yet)
Cyber Cruise Souvenirs
Lifecruiser Cyber Cruise in Technorati

© Copyright
Lifecruiser.com
. All rights reserved.