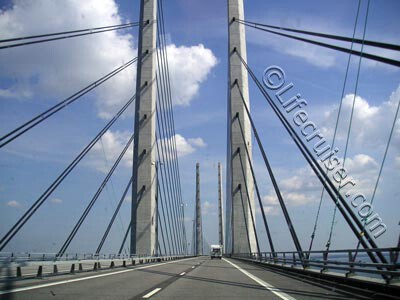 Theme: Heavy | Next week: Free


PhotoHunt
Let me present for you: Öresundsbron, the cable-stayed bridge between Sweden and Denmark, constructed between 1995-1999. We took this photo 2004.
It's weight is incredible heavy 82,000 metric tons, but not only that, it's also the longest border crossing bridge in the world with a total length of 7,845 metres (25,738 ft).
To be able to show you the bridge properly, I had to borrow another photo. Just have a look at this aerial photo of the bridge, doesn't it look a bit strange?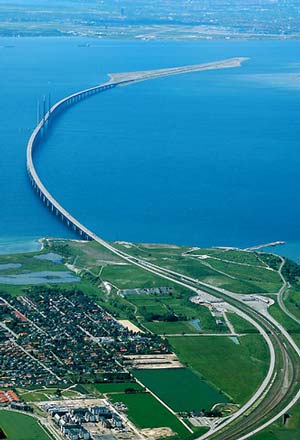 Author: H.C. Steensen
Creative Commons Attribution-ShareAlike license
Yes, the bridge is ending out on that small islet! It goes only about halfway to Denmark, the rest of the way is through tunnels for 4,050 metres (13,287 ft) long. One 3,510 metre long buried undersea tunnel plus two 270-metre gate-tunnels.
The international European route E20 runs across the bridge, to the artificial island Peberholm (Pepper Islet) and through the tunnels, with the rail tracks beneath the E20′s four lanes.
So if and when we wanna go south to Europe, this is the road we'll take!
Captain ♥Roadtrips Lifecruiser