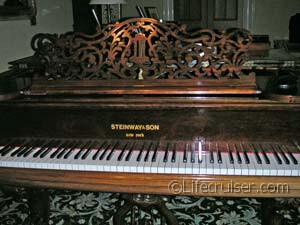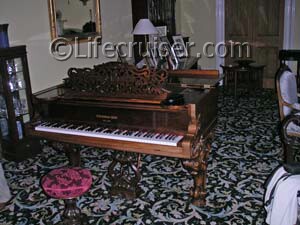 Theme: Music | Next week: Plastic
PhotoHunt in Technorati
When we were in Scotland in 2004 and staying in a castle, the owner had a grand piano in one of the rooms. And it was no ordinary piano either, it was the Rolls Royce of Grand Piano's: a Steinway!!!
Look at that wonderful ornamental music stand and the wonderful brown wood – I've never seen anything like it before or after this. A brown wooded grand piano yes, butt not quite like this.
Not only that, the owner very generously said that we were allowed to use it if we could and did feel like it…. Oh, boy, for Mr Lifecruiser, the enthusiastic piano player that don't have a piano at home (the poor man), this was absolutely heaven.
He played…. and played…. and played… Away from time and room. And I listened. Even though I'm no piano player myself, I could clearly hear the difference in the sound in this grand piano comparing to ordinary piano's. This was for serious music to be played upon, no easy pop music.
I suspect that even the castle atmosphere had something to do with it, it really felt MAGIC.
He later told us that this grand piano had been a wedding gift for a couple living in the castle in the 19th century, so this an old grand piano. If we don't remember wrong, it is from 1883.
When we returned the following year, they've had the piano man tuning the piano at the same morning we arrived there – what a luck

Captain ♥ Music Lifecruiser
© Copyright Lifecruiser.com. All rights reserved.