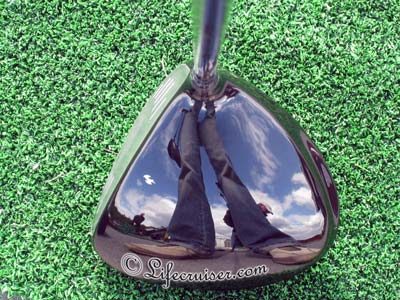 Theme: Self

PhotoHunt
I think this photo turned out really funny distorted. Yep, it's me holding a golf club, Mr Lifecruiser's new driver, but no no, I've not played with it - not THAT one

Read more in my earlier post Golf pleasures in and out, if you haven't already!
Facts about Swedish Golf:

Number of golf courses in July 2007 in Sweden were a total of 499. Of them were 282 golf courses 18 holes courses, the rest were up to 36 holes. In our capital Stockholm there were 63 golf courses up to that month.

Sweden has 9,196,227 inhabitants and is to the surface at similar size as California, just to give you an idea of it. There was, in July 2007, counted 587 013 members in the Swedish Golf Association.

How ever, the number of members have decreased from 2004 and even before that a change could be noticed: not so big increase any more as earlier. Of course, it has to stop somewhere, but now members really are dropping off.
There can be several reasons for that. One is the bad weather the past years, another is that people have a more tough situation now. It has been expensive to buy into a golf club and golf is a time consuming sport.
Many have a very tough and demanding situation at their jobs today. Many has lost their jobs and have problems getting a new one.
Maybe they're not allowed to play golf as a way to socialize with expected customers any longer either, as the case very often were during some years. The company supported them to take their golf licenses.
So, less money and time for golfing in the over stressed Swedish society today, which is a pity, because stress is bad to your health. Golf is without doubt a really good exercise to keep you in shape.
Lifecruiser ♥ Photo