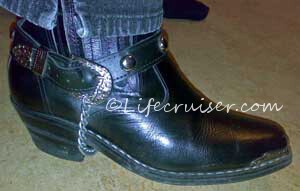 Theme: Flexible | Next week: I Love __ (fill in blank)
PhotoHunt in Technorati
These are the boots we bought when we were in Paraguay in 2005, to have when we were horse back riding there – like real Guachos (cowboys). We're so pleased with them, it's our favorites. You don't see boots like this in the stores over here. We've got many comments on them from others. Everybody thinks they are cool. Both youngsters and older.
As you can see, the ankle of the boot is made stretchy – flexible, so we don't have to unbuckle something to put them on or off, which is a lifesaver for me with my bad back. They are so comfortable that I wanna wear them all the time.
The cost of this boot was approx. 3$ which is just incredible! OK, it's not of the best quality, but considering that I wear it very often and it still has lasted since 2005, I would say it's quite a bargain!
In 2005 I read some where that the 3 top cheap countries to tourist in were: Egypt, Paraguay & Philippines. I hear that Gattina haggle the price in Egypt right now, Mr Lifecruiser is very good at that too, but when we were in Paraguay we hadn't the heart to do it because it was almost too cheap…
Well, now we can confirm that, since Gattina is in Egypt telling us how cheap it is and we've been to Paraguay ourselves. Paraguays neighbor – Brazil – were not at all that cheap as Paraguay. Much more tourists. In Paraguay it was mostly Germans that had come there to live, not tourists.
Actually before we went to Paraguay, we were on our way to the Philippines, but that is another story I will tell you about another time!
Captain Guachos Lifecruiser