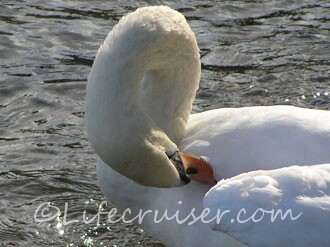 Theme: Curvy | Next week: Smelly
PhotoHunt in Technorati
---
Thanks x million for all the birthday attendance yesterday, you're all so sweet. Love you all!!!! I'll thank you personally later!
We had to cancel the road trip yesterday. Why? Bad things happened. Of course. No surprise, I'm involved, remember? *giggles*
1) Miss Ass. Lifecruiser went with ambulance to hospital once more (last time was only a week ago with her dangerously blood pressure). This time she got severe dizziness out on the street in the city (not Stockholm) and couldn't go anywhere…. They held here over night at the hospital. She is better again – as usual it comes and goes and the Doc's can't explain a thing…. *sigh*
2) My bad weather curse did strike once more…. So we postponed the road trip until today in hope that the weather would be better. Maybe it is. It's not raining right now…
3) Not only that, but it seems like both Mr L and me got some kind of virus, feeling exhausted, headaches, sore muscles and Mr L got back his dizzyness he can get when having infections, it's an old virus he has had that comes back.
That's life. Especially my life…. *giggles*
Hey, we're doing a seconded try today! Some one that can keep the bad things away? *giggles*
Wish us luck…
Captain Curvy Lifecruiser
♥ Don't miss Lifecruisers Halloween 23-31 October, with a spooktacular Halloween Party the 31th! Read more about it here!

All bloggers are welcome, come you too!

Help us spread the word by displaying a button in your sidebar – with a link back to this blog – grab them over at Sanni's blog!

Coming Cyber Cruise events:

♥ Olive tree's fest in Ollioules (After 6 Oct)
♥ LC Blogwarming Party (Middle October)
♥ Your oddly ghost Halloween post (Tue 23 Oct)
♥ Share your scare! (Thur 25 Oct)
♥ How do You Celebrate Halloween (Tue 30 Oct)
♥ Halloween Party (Wed 31 Oct)
♥ Strömstad, Sweden
♥ Corfu, Greece
♥ Denmark – Germany
♥ Algarve, Portugal
♥ The East Coast of Scotland
♥ The West Coast of Scotland
♥ Fuerteventura, Spain
♥ Miami, US (November)
♥ Panama Canal (November)
♥ Buenos Aires – Argentina (Second half of December)
♥ Foz do Iguazu, Brazil/Paraguay (Second half of December)
Do you want to hop aboard at next event?
Read about Cruiser Grades.

Read more about Lifecruiser cyber cruise.
Lifecruiser Archive 2007
Lifecruiser Blogroll Code
Cyber Cruise Souvenirs
Lifecruiser Cyber Cruise in Technorati

© Copyright
Lifecruiser.com
. All rights reserved.