Theme: Classic | Next week: Flexible
PhotoHunt in Technorati
What could be more classic than a gramophone? This one I spotted at the Technical Museum in Stockholm. I loved the note wall behind it too. It would have been so cool to have one at home and some old records to listen to.
Another very cool classic object we spotted there (of all the hundreds!) was this old tricycle for kids: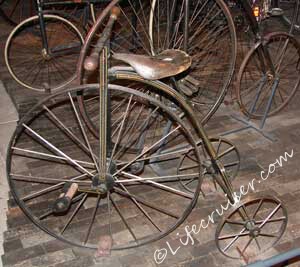 "This particular child tricycle were purchased in 1892 by the monarch Oscar II of Sweden, for the children of the Royal House. It is made of wrought iron and with handpainted decoration cost 35 Swedish crowns".
Captain ♥Classic Lifecruiser
Psssst. If you like my blog, vote for Lifecruiser in the Weblog Awards 2007. Or just kick my butt… *giggles*
(CLICK TO VOTE HERE EVERY 24 HOURS, 1-8 NOV)