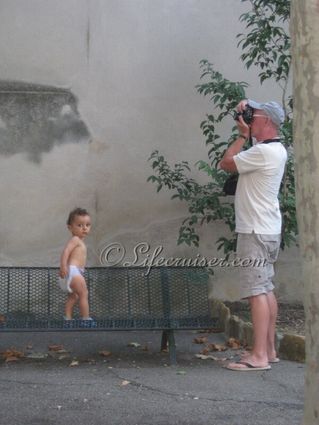 Mr Lifecruiser with his very cute beholder
(Medieval village, Southern France)
Since we came home from our latest trip, we have had some problems with our stomachs (yuk) plus still been in vacation mood, but have had to do a lot of things like tonnes of laundry (double-yuk), dentist appointment (triple-yuk) and other boring stuff.
Today we also have to attend a baptism of one of my niece's daughter, Emilia Johanna, so it's busy times.
Tonight we have the pleasure of reliving the marvelous time we had with Claudie and Pierre, Tor and Anna, Renny and Diane at our blogger gathering in Provence, southern France – plus driving around on our own – by sorting our about 2-3000 photos!!!
Stay tuned for Lifecruisers first travel report from this trip….
Lifecruiser ♥ France