I captured a snake on photo at our summer island (Gotland) once, which I think is a Swedish grass snake (snok in Swedish) – or Natrix natrix, family: Colubridae. We have two subspecies: N. n. natrix and N. n. gotlandica – which not even many Swedes know actually.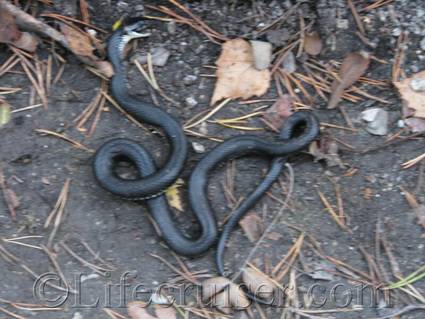 I think this one is a N. n. gotlandica, but it's hard to tell, they can look rather different from each other, up to 40 percent are black without the characteristic yellow spots on the neck – and there sometimes are black European Viper (huggorm in Swedish), Vipera berus, too.
See that it's blurry, the photo? That's because I was not totally convinced it really was dead and not was the more dangerous Viper. I do have a fear for snakes, so I was trying to take a good photo for a long time, but I was shaking too much… ha ha…
It was not I who killed this snake – in fact: all snakes in Sweden are protected species. I think it might have been increasing a little the last couple of years, because we even saw the farm cats playing with a snake at the farm yard once.
This also reminded me that one should always do research about a countries dangerous species before going there as a tourist. It's always best to be prepared.
©Lifecruiser Love Swedish Nature