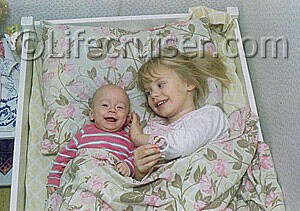 Theme: Sweet | Blogroll Info | Next week: Fake
What a Photo Hunt subject we have today! Too many choices! *whistles* I had to go with photos I already had, no time for something else!!!
This is an old scanned photo of my brothers daughter Jessica and son Henrik when they were younger, that's why it's not that good quality.
Note that the smile he has runs in the family.
Henrik did graduate recently and Jessica is working in a Gant store. Jessica was always so darn sweet to her little brother, so it was such a delight to see.
They're still the sweetest kids, even though they prefer to be called grown ups

Come to think about it, I might start that cheek pinching that old aunts use to do, telling them how sweet they are…??? I'm sure they would DIE of embarrassment!!!
Oh, I'm such a teaser…. *giggles*
Captain Not So Sweet Lifecruiser

Do you want to hop aboard at next event?
Read about Cruiser Grades.
Read more about Lifecruiser cyber cruise.
Cyber Cruise Calendar 2007
Cyber Cruise Souvenirs
Lifecruiser Cyber Cruise in Technorati

© Copyright
Lifecruiser.com
. All rights reserved.