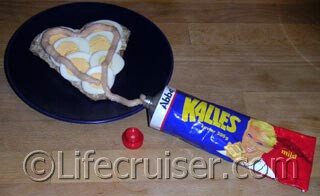 © Lifecruiser 2007 (Home, Sweden)
Theme: Salty | Blogroll Info | Next week: Architecture
Kalles Kaviar is a very classic sandwich paste made from cod roe, which has been very popular here in Sweden for many years – I've been eating it through my whole life now and then. It's one of Swedens strongest brands.
It's salty, mildly smoked and used not only as a pure sandwich paste, but also on the morning eggs or in different mixture in different dishes. It's very useful for cooking chef's with other words.
The name Kalle is originating from the boy on the tube – Carl (nicknamed Calle) Ameln who's father Christian Ameln was managing director of the manufacturer Abba, when Kalles Kaviar were launched back in 1954.
Abba is long established and has had it's head office in Stockholm since around 1850 – so Abba the worldfamous Swedish music band had to ask them for permission to use the same name. Their unusual reply was a note saying Good luck and a box of tinned tuna!
In the fifties Abba bought a recipe of caviar from peddlers for 1000 Swedish crowns and Abbas caviar chef's started to blend, taste and test. It was all about developing and finding new trends. Which they certainly succeeded with!
The content in the tube has in most parts been the same through out the years, it's only the design of the package that has been modernized very slightly. I think that has been wise of them since the design of the tube is so wellknown and loved.
Kalles Kaviar is one of the things we Swedes really long for when we're abroad, like Swedish crispbread – they're actually excellent together.
Even Jamie Oliver, the famous English chef, once admitted when he was interviewed in Stockholm, that Kalles Kaviar was very interesting and could be used in a lot of dishes.
For our Norwegian readers I can make you happy to mention that Abba Seafood since 1995 is a part of the Norwegian Orkla corporate group. It's spread all over the Nordic countries actually and Abba Seafood is today the Nordic leading producer of products from the Sea.
Unfortunately for us Swedes, many of our genuine Swedish corporations is sold out to foreign countries nowadays, so we no longer really know what's Swedish any more.
It's the sad true…
Sources:
Lifecruiser, Abba Seafood, Things Swedish by Mari Hemming