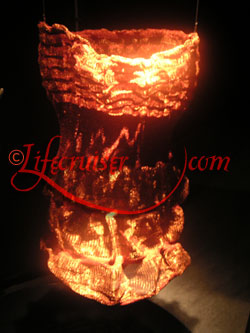 Theme: Hot | Next week: Red
PhotoHunt in Technorati
This is a dress I found at an exhibition at the Technical Museum in Stockholm last year. This dress is so hot that it's on fire – high fashion made of metal threads!!!
It sometimes feel like I'm in this kind of dress

…and Friday evening I longed for something hot, because we were out in the city with my best friend Miss Ass. Lifecruiser and my sister Susan and it was freezing cold, very chilly and damp winds going right through our clothes.
We had to warm up with a lot of food… and drinks…. *giggles*
Captain ♥Hot Lifecruiser