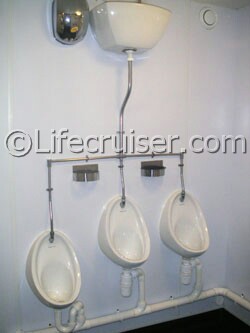 Theme: Funky | Blogroll Info | Next week: Row
This photo is taken in the Gents somewhere in Scotland – not by me I swear *giggles* butt of my pervert husband Mr Lifecruiser who found the idea of a threesome urinal with one shorter for midgets and kids very interesting…. *giggles*
Considering the fact that "….something is funky when it's different/strange but cool", it was so darn difficult to choose one photo, so today I'll do an exception to my own restriction to only post one photo.
I simply MUST show you those photos! *giggles*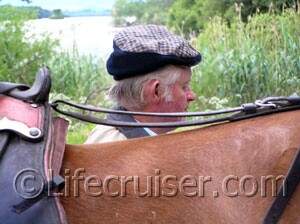 Don't you just love his funky cap? I wanted to buy one for Mr Lifecruiser! *giggles* This is our funky Irishman Paddy, who drove our horse carriage one morning when we were taking a ride to a nearby castle in a small village in South Ireland. The most funky with him was that this was a Sunday morning and he was still drunk from the Saturday night in the Pub. Which actually means that it was not he that was driving us – it was the horse finding the way by herself! Though he did woke up when we started to sing!!!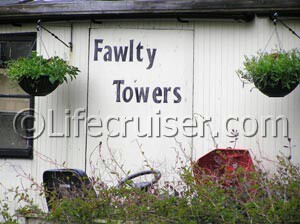 Remember the show Faulty Towers with John Cleese? I love that show. Well, let's just say that Englishmen has a certain humor, which sometimes can be brilliant and sometimes…. *giggles* This was an outbreak of Scottish humor we saw on the way.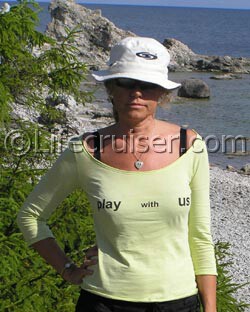 These are two photos of me doing some funky advertising for our friends poker site in 2005. The slogans on my butt and boobs are of course my and Mr Lifecruiser's funky ideas! *giggles*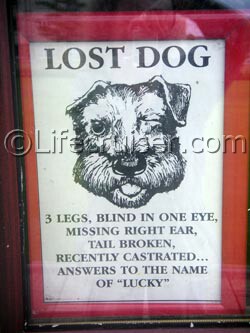 This is a funky sign we saw in Scotland, in Larg I think. Just love their funky humor!
…and what about one of my funky posts:
Where 2 funky bloggers (with their funky hubby/wife) met each other in real life for the first time and had a blast doing funky things!!!
The word funky seem to be very different and have a variation of significance for almost every person, so I really look forward to my round to all the other Photo hunters this week

PhotoHunt
Captain Funky Spunky Lifecruiser