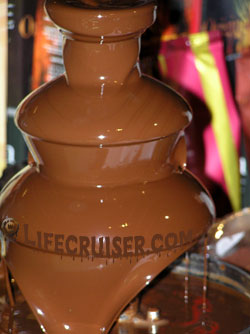 Theme: Cooked/ing | Blogroll Info | Next week: Colorful
This is my delicious cooked looked chocolate fontaine – yummy – I took at last years Chocolate Festival here in Stockholm.
Imagine the smell of it!!!! [danger alert]
Captain C(r)ook Lifecruiser

Don't miss:
RennyBa's 17 May Norways national day
Tor's 17 May Norways national day


Do you want to hop aboard at next event?
Read about Cruiser Grades.
Read more about Lifecruiser cyber cruise.
Cyber Cruise Calendar 2007
Cyber Cruise Souvenirs