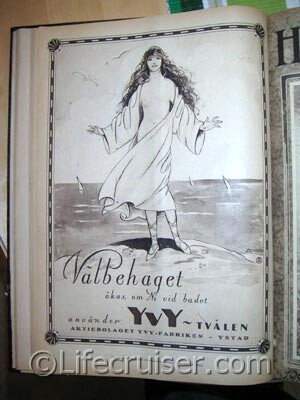 © Lifecruiser 2007 (Husmodern 1923, Sweden)
Theme: Clean
| Blogroll Info | Next week: Hobby
The ad says:

"The feeling of well-being will increase if you at the bath will use The YVY-soap"

The YVY factory at Ystad
(Swedish town in the south of Sweden)
This is an ad from 1923, in a year book of the Swedish magazine called Husmodern (The House Mother) that I've taken a photo of when visiting my mother at the elderly home.
What could be more connected to the word clean than soap? Not only that, I'm occupied cleaning my home too, not only ordinary cleaning, but cleaning from stuff to – even in the basement! Phew!
Stripping like that in 1923 must have been very daring, even though they have drawn the breasts of the woman very discretely, hardly noticable.
Remember the other ad I showed you once before? That one was a bit naughty too. I bet this was their way of being "modern" and daring.
So todays ads with halfnekkid women is nothing new – they are in fact oldfashioned

I just love to see old things like that. The whole year book is a gold mine!
Happy Easter Saturday

Captain Clean Lifecruiser

Next week: Preparations before the big Cruise Ball!
Do you want to hop aboard at next event?
Read about Cruiser Grades.
Read more about Lifecruiser cyber cruise.
Cyber Cruise Calendar 2007
Cyber Cruise Souvenirs

Lifecruiser Cyber Cruise in Technorati