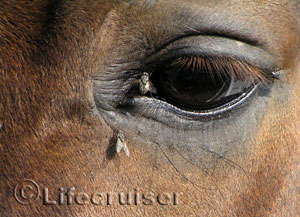 Theme: Childhood | Blogroll Info | Next week: Fire
To see my newest bloglayout PUSH F5 button!
This represent my childhood. I practically lived with horses. This type of close up horse eyes was what I was looking into every day. Horses have the most fantastic eyes.
They were my best buddies. I can still feel the smell of the horse just by looking at this photo and for me, that's like a heavenly parfume!!!
I spent all my spare time in the stable, which shows in my back nowadays… No one had told me about the right way to clean the stable or to carry hay bales and with my "no muscles-body" and growing heavily at the same time, the result could only be one: worned out.
I tried to hang on to this favorite interest for as long as I could even as a grown up. I even invested in a certain gel-saddle-pad, but to put on top of the saddle to ease the bounces for my poor back. It was containing the same kind of gel they use in the catapult in Royal Air Force's I was told. It did help a little for a while.
At last, when I hardly could ride any more without screaming from pain, I finally had to admit that I couldn't do it any more. I just didn't want to admit it, but I should have had quit long before that.
It was a sad, sad day in my life. I still miss it very much and get sad when I'm in contact with horses in any way again, because the longing for taking a long gallop wakes up again. The spring is especially difficult.
There is no more wonderful than riding out in the peaceful woods an early morning, only hearing the wind in the trees and the birds singing and then come out from the woods to a meadow and just let the horse run…
*heavy sigh* *sobbing*
The top picture on Lifecruiser right now, the orangutangs, also is connected to the word childhood, come to think about it!
The Zoo layout is beacuse the Lifecruiser ship has cast anhor in Antwerpen, Belgium to go to the Zoo Saturday – come along you too

Captain Horseye Lifecruiser

Saturdays port: Antwerpen Zoo, Belgium.
Host: Gattina.
Do you want to hop aboard at next event?
Read about Cruiser Grades.
Read more about Lifecruiser cyber cruise.
Cyber Cruise Calendar 2007
Cyber Cruise Souvenirs

Lifecruiser Cyber Cruise in Technorati