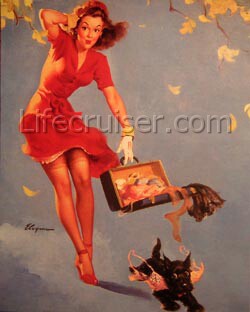 Finders Keepers, 1945.
Oil on canvas. Gil Elvgren.
© BROWN & BIGELOW INC, ST. PAUL, MINNESOTA
As you may have noticed already I've decided to make this blog a bit more travel targeted too, not only by the cyber cruise but also besides that. I will still write some personal stuff too.
The word Packed in Swedish is Packad and the fun with that is that we also use that word for someone that is totally drunk

Do you have any odd travel packing habits?
I have. When we're going to travel, I always have had problems to pack the suitcases. It takes time. It's like it must mature before I can do it.
Very often I postpone it to the very last minute. Like in the middle of the night – meaning that I get no night sleep that night before going away. I have to sleep on the airplane to catch up.
One time I realized that it was so late in the night (we were catching an early morning plane), so it was no idea to go to bed at all!
So what did I do…?
I started to vacuum and cleaning our apartment – at 3 o'clock in the morning!
It was totally insane. I start to giggles every time I think about it now afterwards.
I'm not particularly nervous for the trips and I'm not afraid of flying, so I really don't know why I have this silly behavior.
A general case of travel fever? *giggles*
As I've said before: I should adopt Mr Lifecruiser's way of packing: just throw down every thing on the shelfs into the suitcase – and he is done. Sooo much easier!
Then of course, I look so much more stunning than Mr Lifecruiser in my luscious dresses I switch between…. *giggles*
Though I must admit that I've improved my packing technique since we've been away so much back in 2004-2005, almost every month. We were away over half of the year in 2005.
I know what to pack – I just not get my butt going!!!! *giggles*
Though the last trips we've done, (that hasn't been a month long!), we've tried to have one bag each instead of the suitcases which is more difficult to handle. A soft bag is easier to carry than the hard suitcases.
Well, not that I carry any bags anyway, because of my back (poor Mr Lifecruiser!)…
Heard on a plane after landing:

"As you exit the plane, please make sure to gather all of your belongings. Anything left behind will be distributed evenly among the flight attendants. Please do not leave children or spouses."
…and that's another problem: to not leave something behind…
When I do pack, I've followed those packing advices:
OK, not the last one since we don't surf, but I thought it were cool anyway

I do hope that I'll have to pack my bag soon!
Captain Packed Lifecruiser