We have been teasing you with our earlier posts about How we escaped the cruise ship and ended up in jail (without doing anything criminal) and finally we will tell you all about the experience of spending the night in the Katajanokka jail…
After the bad cruise experience at the budget cruise we escaped from, I was determent to make the ending of this trip great, so I made a reservation at a much better accommodation: The Katajanokka Hotel, a Best Western Premier Hotel – which actually is an old prison turned into a hotel!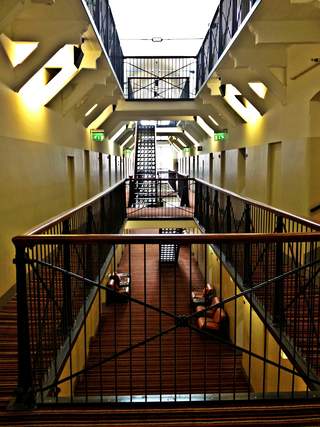 No, it was not worse than that, we didn't had to be locked in with only bread and water in a cold jail cell… ha ha… Though I must admit that at that time we really felt like disobedient teenagers on the run!
I was aiming for a room with Jacuzzi from the beginning, but kinda adapted to the country tradition of Finland: the junior suite with an own sauna in the room! How cool (or hot I mean) isn't that???
The sauna of course demanded a use of the minibar in the room too, despite the fact that those can become quite expensive. One can't skip the most important part of a Finnish sauna, right? After all, it was hubby's birthday.
We had a really relaxing sauna before making us all handsome and dressed up (with our nice clothes we had been carrying around all trip to be used this special evening) for the dinner at the hotel restaurant: The Jailbird. Very suiting and interesting name, don't you think?
So how was the jail food? Well, it didn't come as a complete surprise for us that it was really excellent! That chef knows what he/she is doing and the ingredients used were very fresh too!
We started with a whiskey drink called Godfather (Scotch whisky and amaretto almond liqueur) for hubby and a modest glass of sparkling Cuarenta Cava for myself.
Hubby did consider Snails with Garlic and Angelica as a starter, but he wanted them to be in the shells and they were not, so he went for the Lobster Soup Flavored with Sherry instead. I did choose the Grilled Goat Cheese and Lettuce, because I just love goat cheese.
To go with the dinner we did drink a dry Austrian white wine of Rabl Gruner Veltliner, which went very well to our choice of courses.
For the main course hubby did choose the Grilled Lamb with Smoked Garlic Puree and Garlic Potatoes, since he love lamb and I went for the Glow Fried Salmon with Grilled Asparagus and Quinoa Salad, since I love salmon. Both were excellent.
Not to mentioning the staff, our own prison guard. I must admit that he must have been the best prison guard ever, giving us such a great service! Ha! He had humor too and you know how we love people with humor.
As a dessert I did choose a Champagne sorbet with strawberries – what else for a Champagne lover like me? Hubby were celebrated by our prison guard with a birthday cake in the shape of e Creme Brulee with a lightened candle in the middle! Surprise!
I'm very happy over the fact that we didn't have to eat the same as the former prisoners: mostly soup and occasionally salted meat, for breakfast gruel or porridge. Once a week boiled potatoes and salted Baltic herrings…
- And no, we did not hear anything from any prison ghosts, no wandering about or making any noises, not even any knocking on the walls – to my disappointment… ha ha… I think that would have add up to the experience as well, don't you?
Helsinki County prison years 1837 – 2002

Helsinki County Prison, called Nokka or Skatta was a pre-trial detention facility. Criminals were sent there from all around the Province of Southern Finland to wait for their trial, so more than 40 % of all prisoners in Finland was passed through this place. The prison also housed default prisoners, people who couldn't or wouldn't pay their fines. the prison had 164 cells with 128 places for male and 7 places for female prisoners. In reality there could be more than 200 prisoners in the quarters at the same time. The cells were 7 m2 in size without toilet or shower.

Source: The Hotel Site of bwkatajanokka.fi
Ouch, that fact that there were no toilets would have been really devastating in my case, considering my "lock-up in the toilet experience" you could read about in the earlier post!
Click to see some more Lifecruiser Flickr Photos of Katajanokka Hotel and Jailbird Restaurant.
Stay tuned to read more about our sightseeing time in Tallinn and St Petersburg, which included an Idiot (or maybe more) and Russian Vodka!
©Lifecruiser Love Katajanokka Jailbird
Related Baltic cruise posts by Lifecruiser:
How we escaped from a cruise and ended up in jail… Part 1
How we escaped from a cruise and ended up in jail… Part 2