The last boat posts has lead to this post about the very Swedish boat type called Pettersson-boats after it's creator, the legendary Swedish boat designer Carl Gustaf Pettersson (1876-1953).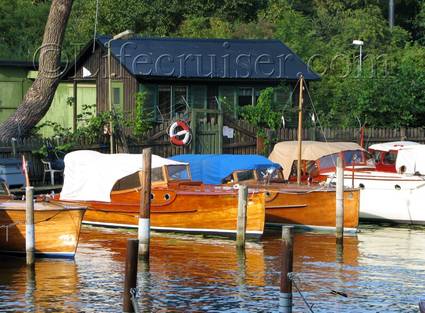 Carl Gustaf Pettersson designed those very special 7-10 meter long wooden boats with straight and high sterns in the mid 10′s. They soon became very popular among ordinary Swedes – perhaps because they were boats made for shorter trips.
Since Sweden has many lakes and a long coastline, it's only natural with a vivid boat culture – especially with the heritage of the Vikings. The pleasure boat hobby has been and still is big in Sweden and so even the interest in boats designed by CGP.
The Swedish pleasure boats are known for their craftmanship – even abroad. A lot of exporting of Swedish Pettersson boats have been done to Norway, but also to Holland and Germany.
I've been out, both in the lake Mälaren and the Baltic Sea, in a Pettersson boat many times. The thing I remember the most is the necessity of fronting the waves with the stern, to not roll in the sea too much (they're only around 1,20—1,50 m wide).
Be aware of that most Pettersson boats are more than 40 years old and should be inspected under the waterline before buying. If the boat is taken up from the sea too late in the season, the wood won't have time to dry before it's going to freeze and the wood will burst.
It's said that the Pettersson boat had influence on the Swedish birth-rate: the deckhouse are so narrow that man and wife can't stay over night there without the wife getting pregnant…
You can see how narrow they are in my two earlier posts: The wooden Pettersson boat stripes photo and the Mahogany Pettersson boat photo.
©Lifecruiser Love Swedish Boat Photos

Other recent Swedish boats posts by Lifecruiser:
Stockholm Water: Two Wooden Boats or Gigs
Stockholm Water: Old wooden Boat Captain
Stockholm Water: Långholmen Canal Boats