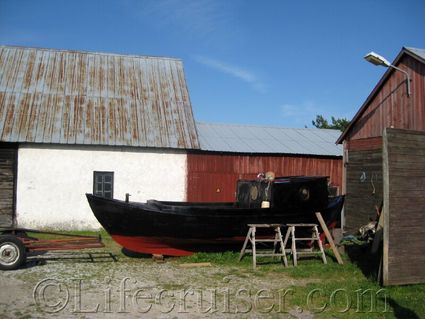 This is the farmers old fishing boat, which he has put tar on. He didn't put it in the Sea (Baltic) until we had been here for quite a while – unusually late – because it's no use before the fishes get fat enough.
He use to have his boat down at the fishing cottage down by the sea straight down the meadows from the farm, but this year he has moved the boat to another port nearby Lauters because the Sea in the port was not as clear as it use to be. Full of plants etc.
The boat is simple, but yet very useful. It has helped him to catch many fishes during the years. Mostly Flundra (Flounder), but also some Lax (Salmon), Strömming (Baltic herring) and Piggvar (Turbot) or Butta as they call it here on the island.
Funny thing is: the Turbot is always very requested in finer restaurants, but for some here on the island it were earlier consider as cat food only…
We're afraid that this year we'll be going home without having tasted the farmers home smoked flounders… *sigh*
We have only been out with him in his boat once, because we would only be in his way and besides that: normally we're not up that early in the mornings….. *big yawn*
Today we're taking it easy – after all the partying, guests & sightseeing, we need some relaxing time too.
Even the weather seems to be resting today. Something in between, neither sunny nor rain.
Lifecruiser ♥ Boats