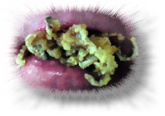 There is only once that I have thought that Mr Lifecruiser were so disgusting that I wouldn't kiss him and that was during our honeymoon!
We were on the greek island Crete driving around and stopped at a nice restaurant to eat something. There really is some great food in Greece, but of course Mr Lifecruiser had to choose to eat deep fried octopus… I can't stand octopus, neither the smell of it or the look. *feeling sick at the thought of it*
He had to make it even more disgusting by putting the whole mouth full of them, challenging me to try some of them. That was the only time I've said: "There will be no more kisses for a couple of hours at least, despite the fact that we're on honeymoon!"
He thought I was hard at him, but that was really the only time I've thought he was disgusting. There were grease from the fried octopus all over his mouth…
For me, it was like some one participating in The Fear Factory. *shivering with fear*
No honeymoon lips for kissing!