The founders of urbita.com (7 million users/month local info & travel platform), also launched a very promising and useful travel videos site: travideos.com. Despite it being so new it has already got an impressive number of visits: over 2 million unique visitors!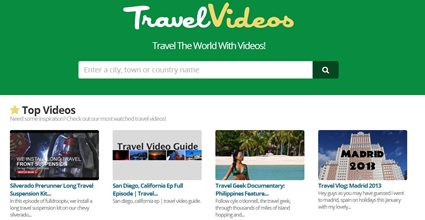 I usually get contacted rather often with promoting emails of all kind of services, sites or apps. Not every one makes it through to my writing, but Pablo Grandinetti's (co-founder of Urbita/Travel Videos) email did. Read why below…
Being the first search engine for travel videos organized using Urbita's database of around 180,000 cities/towns, it sure did catch my attention fast. On top of that they also categorize the videos by location and add other information of interest like available tours, music festivals or sports events.
This approach is of course very useful for us travelers, gathering much of the info we want for our research for any city we plan to visit. Not only that, but the info we get is like insider-info, local knowledge of a place which is essential for any traveler that wish to plan the best holiday at that particular place.
I like the fact that I can get a search result with better videos than just searching for videos generally in different common video sites. Travideos.com is after all, specialized in travel videos, making it more suitable as a travel planning tool. Try it out!
©Lifecruiser Love Travel Videos

.