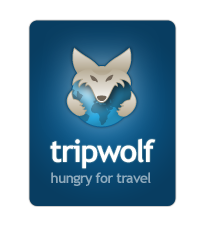 I've tested the beta version of a new social travel guide named Tripwolf for a while and now when it has launched to the public, I simply must share it with you!
At Tripwolf there are friendly trip gurus (like myself) for over 100 cities who can advise and recommend destinations or attractions of interests.
Tripwolfs admirable vision is to be the leading Web 2.0 travel guide, with a focus on Europe – for travelers going to Europe as well as Europeans traveling outside.
One of the things that appeals the most to me is that it both professional editorial travel content as well as user generated content with experiences from thousands of travelers worldwide.
In Tripwolf travelers can generate their own customized travel guide based on their own individual preferences combined with recommendations from friends and trip gurus, which makes this really awesome. What could be better than information about places and destinations directly from fellow travelers that already has been there?
I simply love that you can create your own travel guide by using the drag and drop feature into your scrap book, which you can download in a PDF-format and print out. Very handy to take with you on the trip.
They have several hundred thousands points of interests from content partners to enrich their information and soon travelers will also be able to book their trips through Tripwolf.
For you that use Facebook there is a possibility to log in with your Facebook account and invite friends with your Gmail, Yahoo!, Orkut, and Linkedin accounts.
(Click on the picture to see it large in Flickr)
When I first registrered and logged into Tripwolf, I instantly liked it. Besides the cool features and the fact that I could become a guru for the first time in my life (lol), I find the design very modern and appealing too.
I've been to many other travel sites, some good and some really crappy and I'll not compare them in this post, because I want you too make your own opinion without me leading you to any conclusion.
Besides that, we're so many travelers in this big world that I believe that there is a need of different travel sites, so no need to exclude the others just because a new one has launched.
For us users, it's always a good thing with some competition to keep them alert, right?
I'm planning to become more active there after our trip to our summer paradise island, which is tomorrow! We're leaving home early Thursday morning and will be posting from there during our stay there.
Just go there and register to check it up for yourself: Tripwolf social travel guide.
If you do register, look me up: Lifecruiser at Tripwolf and we'll share travel experiences!
Lifecruiser ♥ Tripwolf