When out on roadtrips, it's important to have a reliable car, to feel more secure. We have a new car since 4 months, bought with our Europe trip in mind. A red Skoda Yeti 2012, with highest rates when it comes to crash protection as well as a lot of other things (also the rust protection).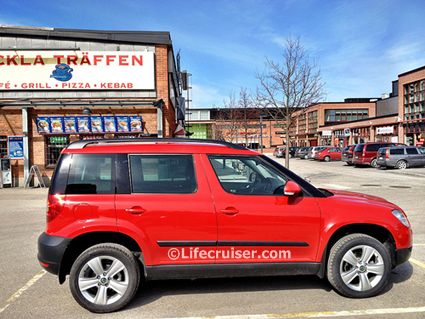 Both of us are already extremely pleased with our Yeti (built from Volkswagen and Audi parts, most of the car). Despite it's size, there is lots of packing space and all the three backseats chairs are possible to take out with ease.
For us with spine problems, it's heavenly easy to get in and out of too, since it's higher than normal cars. A crossover they call it, trying to copy the popular SUV's, but still not so big and better for the environment.
We also have a Skoda insurance including road assistance, so we will without doubt manage well during this long roadtrip in Europe!
©Lifecruiser Love Europe Roadtrips
Earlier post about Lifecruiser Europe Trip 2012:
Europe Trip 2012 Summery
Europe Trip Accommodations
Mapped Europe Roadtrip Route 2012 by Lifecruiser
Routes and stays booked for our Europe trip 2012
Planning our Europe trip 2012