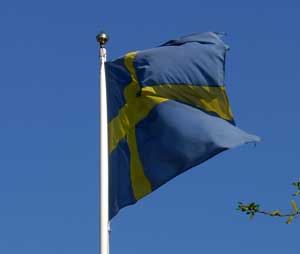 The whole Sweden is celebrating our National Day today, the 6th of June.
The Swedish parliament made it to a national day as late as 1983, before it was just the Swedish flag day, even though it has been discussed since around year 1900. Last year they also decided that this should be a public holiday, which means that people get more motivated to really celebrate it.
We celebrate this day with flag-parades, picnics, music events, choir singing, the royal family participating in different ways and speeches hold by prominent persons in the communities. Even persons that have become new citizens this year are greeted welcome as Swedish citizens with a ceremony where they get a document that shows that they have become Swedish.
The reasons for why the Swedish flag is blue and yellow is that it's originating from The National emblem of Sweden's colors, a blue shield with three yellow crowns.
The origin of the date is that Gustav Vasa was crowned as Swedish king the 6th of June 1523 and that 1809 years instrument of government was signed the same date, which adopted the constitution of Sweden.
The flag were primary used by the Swedish King and his army, primary the marine. From Gustaf II Adolf's time, around 1620, we have picture proof of blue-yellow cross-flags on Swedish ships.
Loudly singing the National Anthem of Sweden:
Du gamla, du fria, du fjällhöga Nord,
(You ancient, you free, you mountainous North)
du tysta, du glädjerika sköna.
(You quiet, you joyful beauty!)
Jag hälsar dig, vänaste land uppå jord,
(I greet You, friendliest land upon earth,)
din sol, din himmel, dina ängder gröna,
(Your sun, Your sky, Your meadows green!)
din sol, din himmel, dina ängder gröna!
(Your sun, Your sky, Your meadows green!)
Du tronar på minnen från fornstora dar,
(You are throned on the memories of olden days,)
då ärat ditt namn flög över jorden.
(When honoured Your name flew over the world,)
Jag vet att du är och du blir vad du var.
(I know that You are and will be as you were,)
Ja, jag vill leva, jag vill dö i Norden!
(Yes, I want to live I want to die in the North!)
Ja, jag vill leva, jag vill dö i Norden!
(Yes, I want to live I want to die in the North!)
Maybe you've heard it too often this year when Sweden won both World Championships and The Olympic Games with our ice-hockey team Three Crowns (Tre Kronor)…. *lol*
The Swedish Anthem instrumental
Wikipedia about Three Crowns