The 6th of June is Sweden's National Day, so today you will find a lot of Swedes free from work and celebrating their country in different ways. We will inform you about the National Day plus tip you of some of the places and programs with celebrations.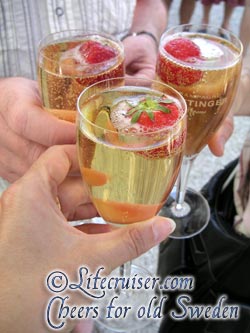 Today there will be a lot of blue-yellow flags waved all over the country of Sweden, for sure. Also a lot of folk costumes will be worn, even if that has decreased over the years becoming more out of fashion.
Yes, we too will be there somewhere among all the cheerful Swedes, making a toast to old Sweden.
This year Make Music Stockholm will be participating in the celebrations which means that there will be a lot of music around in lots of places of the city center.
Tips of places to head for to celebrate in Stockholm City, the capital of Sweden:
Stockholm Palace which is open with free entrance and full program
A Taste of Stockholm Food and Drink Festival in Kungsträdgården
Swedish National Day Festivity Program at Skansen
Rålambshovsparken (picnic, culture events, sports activities)
You can get more detailed information about the Swedish National Day in the earlier posts below, why we celebrate it, our national anthem (Thou ancient, Thou free), photos and more.
Cheers & Happy National Day to all of Sweden – and to all the Swedes abroad!
Lifecruiser ♥ Sweden
Earlier posts about the Swedish National Day with more info:
Happy National Day Sweden
National Day Celebration Stockholm 2009
National Cheers to Sweden
Swedish National Day Celebration
National Day of Sweden