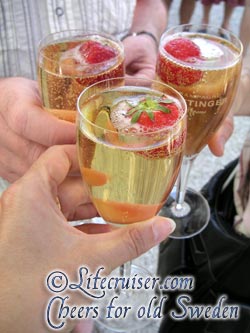 Today, the 6th of June is the kingdom of Sweden's National Day. Not only that, we'll be off to my niece Diana's graduation. Two celebrations in one.
At first I thought it were a bit odd to have the graduation at the national day, but I guess it's because they really have to spread out the graduations nowadays, because there gonna be chaos otherwise.
It's too much students that graduate in Stockholm. They have extra police's out there, to prevent fights, since they do have a habit of drinking to celebrate that they're entering the grown ups world.
To see an example of how Swedes celebrate their national day, read my post from last year: Swedish National Day Celebration (photos) and the post from 2006 National Day of Sweden (More information).
Singing Du gamla, Du fria ("Thou ancient, Thou free") – loudly :-O
Lifecruiser ♥ Sweden