This is day 2 of our Kauai Escape posts – a series of posts that span over a week exploring this wonderful island.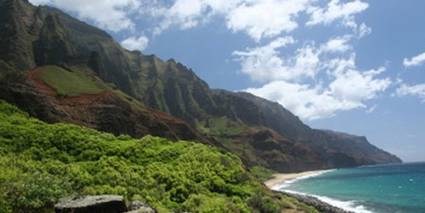 Day 2 – Na Pali Coast
We will arise bright and early and make our way to the islands north side. We will take Highway 560 all the way to the end of the highway.
The road will end where our feet will pick up on the Kalalua trail. The trailhead begins right at the end of the road – getting ready for one of the most breathtaking views of our trip.
Due to the rugged nature of the Na Pali coast, it is not traversable by car – so our feet will have to suffice. The Kalalua trail winds along the Na Pali coast for 11 miles.
As we hike along we will might recognize the scenery from some recent Hollywood films. We will certainly NOT forget our cameras, because we never want to forget this incredible experience!
We can hike in as far as we would like and come back. If we want to hike beyond two miles we will need to call the State Parks office for a permit.
What do you say – shall we go for it…?
Lifecruiser ♥ Na Pali Coast
To be continued tomorrow….

Earlier article: