Mr Lifecruiser: OK, I will cover my flanks now. The battle is in full action! She is gonna get…
I must post this picture of my wife, to take some landmark back after she posted that beach thing of me.
- Remember, I am only defending my self! No one can blame me for that. OK?
This is a really naughty one – caught in the very act of showing her tits in public!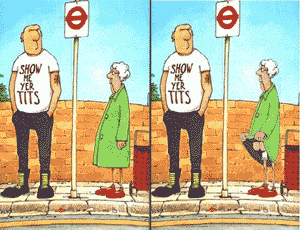 - Yes, it is insane of her, but as you have noticed, I am sure, she is a freaking maniac. I mean, she must be, she is married and living with me…..