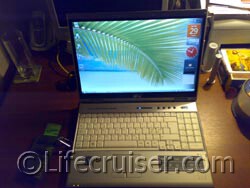 Another add to the family – my new laptop! I just finished installing Windows Vista & other programs & moving over everything from my old one to the new one.
It's just sooooo fresh! It feel like I'm stepping into the future comparing to my old one!
LG P1-KPCJV:
- Intel Duo Core processor T2350 (1,86 Ghz)
- 1024 MB RAM-minne
- 120 GB HD
- 15,4″ Widescreen
- Bluetooth, Wireless, LAN
- DVD-SuperMulti drive
– 2,78 kg
- Windows Vista Premium
- and with a metallic Aquablue chassi and silver interior. Of course I also had to buy it a more cool Golla laptop bag – and you know I go for green this year…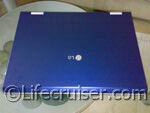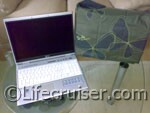 I haven't got the chance to test all the new functionality with this laptop AND my new cellphone, there has been some glitches on the way. Not everything is self explaining, so it takes time to learn about all the goodies

On top of that: my mobile provider has mucked things up when I should order a new SIM-card for 3G, so I'm not even sure if I have one working fully for the moment… *sigh*
Well, if I see it from the bright side, nobody can reach me, which might be nice and quiet? *giggles*
We're leaving tomorrow to take the ferry to Gotland outside Swedens east coast and then from Gotland to Fårö, butt don't worry – there is wireless connection all over Gotland and Fårö.
Though if the weather gods is with us, we're going to be at the beaches very much – or out on excursions everywhere, as we use too. And partying. And having a great time.
I'll try to post some photos ans short notices at least, depending on how my phone is doing and everything else, butt don't count on daily visits and comments from me – though I will certainly read yours!
We had a scare today when Mr L was going to throw away a lot of crap and stumbled and fell rather badly, butt somehow he managed to not break any bones – phew!
Why is there so darn difficult to pack our bags? I never want to begin and then always standing there in the middle of the night.
Like now – so off to pack! *kicking myself in the butt*
Captain Packing Lifecruiser

Do you want to hop aboard at next event?
Read about Cruiser Grades.
Read more about Lifecruiser cyber cruise.
Cyber Cruise Calendar 2007
Cyber Cruise Souvenirs

Lifecruiser Cyber Cruise in Technorati