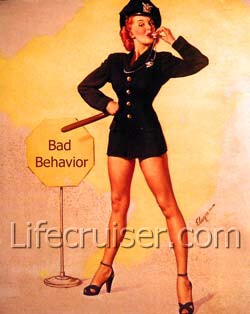 Gil Elvgren, 1949.
© BROWN & BIGELOW INC, ST. PAUL, MINNESOTA
Yesterday some bloggers that tried to comment here (including me), were getting an Error 403 "Your Internet Protocol address is listed on a blacklist of addresses involved in malicious or illegal activity…..".
Oooops! Had I been a bad girl without even knowing it? *giggles*
One of the great things with WordPress is that there always are a lot of helpful people with good WP knowledge out there to get help from!
First thing I did was to go to WordPress.org Support Forums and did a search on Error 403. There I could get on the track at once, pointing to my spam Plugin Bad Behavior.
So my Bad Behavior had a very bad behavior

Me? I'm just nice as a chilled glass of Dom Perignon sparkling down your throat…. *giggles*
In there I found a comment leading me to one blog that had a link to the creator of the Bad Behavior plugin which had already made a new version of the plugin when he had noticed the problem.
Normally I always go directly to the creator of the plugin, because they very often have the solution written down already. This time though I went to the WP Forum since I thought it were a more isolated case of Error.
All I had to do was to download the new version to my computer and upload the files to my webhost space, writing over the old Bad Behavior plugin folder and violá – it worked.
Don't know what Bad Behavior is?
It's an excellent spam plugin together with Akismet spam plugin (that comes bundled with the WordPress installation). I hardly get any spam any more since I installed those two. That's also why you don't need to fill in that annoying word verification when you're submitting comments here.
Read my old post from February when I had installed it: I Love Bad Behavior (or go to the creator in the link above).
I haven't got the time to move my Mom's Blogger blog to WordPress yet as I wrote in the post below, but it will come a report of it soon, promise!
Cheers my dears

Captain ♥WP Lifecruiser
Don't miss the latest Cyber Cruise post:
Yule Market in Oslo