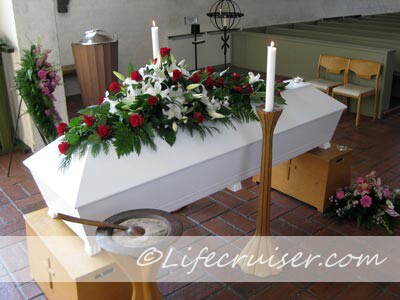 Can funerals be really beautiful? Yes, now I know. They can. My mother's last Tuesday was the most beautiful. As beautiful as she was – even after she had passed away peacefully.
Everything was just so perfect. The white coffin. As pure as her heart was. The red roses (Opium) and white lily's went so breathtakingly well to the white coffin. We did choose the rose before we knew the name of it and when I heard that it was Opium I thought it was perfect, since it was one of her favorite perfumes.
The funeral was held in the same church we had for my fathers funeral, nearby the place where they had lived together since the early fifties. We had a wonderful, very human priest who held such a beautiful and touching speach. She was clearly moved herself, no fake. A caring person.
It's a lot to consider when choosing funeral music, but since my mother loved music and to dance, I made it a personal challenge to choose the most fitting music for the last farewell to her.
The music I had selected tu(r)ned out perfect, not an eye were dry, but not too grievous. My mother wouldn't have wanted that as she had a very bright personality.
Organ, melody: Memory (A. Loyd Webber)
Psalm: I denna ljuva sommartid (In this sweet summertime)
Psalm: Bred ut dina vingar (Spread out your wings)
Solo singer: Unforgettable (Irving Gordon)
Organ, melody: Nocturne (E. Taube)
Solo singer: Smile (C. Chaplin)
Organ, melody: Sista valsen förklingat (The last waltz died away / J. Robledo)
Already when they started to play Memory, we all got our eyes full of tears, but in a bitter sweet way. It's a very classy tune. Unforgettable too. The title says it all… Both Frank Sinatra and Nat King Cole have done their versions of it.
If you just want to listen to one of the above, please choose Smile and tell me then if it isn't one of the best!
It did put a smile on our faces, trying to live up to her capability to smile whatever burdens she had on her shoulders. Many times I've wondered where this wonderful woman did take her strength to smile & laugh from. Even in her last years when her body were so broken and she wished to leave this world, she was so easy to get to laugh!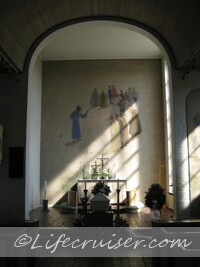 I thought it was even more striking when the lyrics in Smile also says:…."you see the sun come shining through" – which it really did, through the church windows. A wonderful bright sunlight, to enlighten the sad moment.
She had the sun with her, even on the last journey, giving us bright memories.
My mom made big impressions, not only on us. I'm so full of admiration. She was the most honest, hardworking, fair and easygoing person.
I wish to leave the world
(Jose Julian Marti Perez)

I wish to leave the world
By its natural door;
In my tomb of green leaves
They are to carry me to die.
Do not put me in the dark
To die like a traitor;
I am good, and like a good thing
I will die with my face to the sun

I've never ever heard her saying anything negative about any person, even if it were truly bad persons. That is truly admirable. Can you say the same? I can't…
Yet, she had temper, no one could treat her with bully manners. I think I've inherited much of her temper… *cough*
Her memory will live as long as we live and I'll keep her saying with me all the time, the words she repeated through her life:
"You don't have more fun than you make it yourself"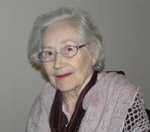 Captain ♥Mom Lifecruiser