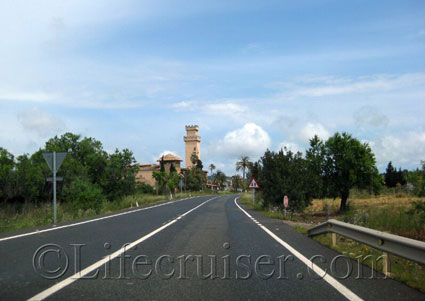 When driving the road from Palma to Alcudia, in the Campanet region in Mallorca – maybe 3-4 km before reaching Alcudia – we could see the tower of Menestralia and decided to see if there were a restaurant where we could eat.
Yep! There it was, our saver in the need. A really nice restaurant with lots of free tables.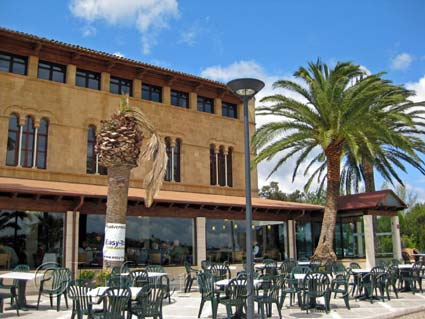 To our delight there were also a big and delicious buffet! We had come exactly to the right place without even plan too. There were so much food there, we didn't even know what everything was… We sure did have a look around though!
We came at the right time too, because when arriving, there were only a few tables occupied, but after sitting there just a short while, the restaurant suddenly were full. Talk about right timing.
Since we were coming direct from the airport, just with the detour to pick up our rental car, we were very hungry at that time – as you also can see of Jane's concentration on the food…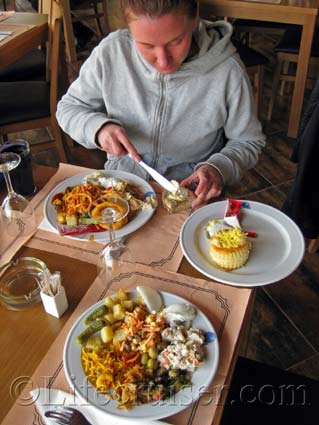 I love finding restaurants like this one, where the locals like to eat – I could tell that we were the only ones not speaking Spanish at least. It was nice sitting there among all the Majorca families.
Since it were the 1st of May, it were a holiday and I guess that's why the glass making factory beside the restaurant were closed while we were there, arriving in the afternoon. Such a pity!
We had to be satisfied with admiring the wonderful old building it were situated in instead. Not so bad that either….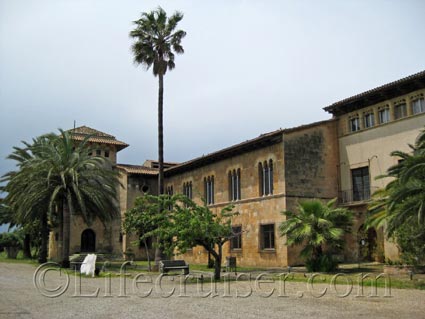 Remember that rainy weather I wrote about in my last post? Funny thing was: the closer we got to Alcudia, the better the weather turned out…
Lucky us!
See all Lifecruiser Menestralia photos.
Lifecruiser ♥ Menestralia