Did I ever tell you about our TRIP TO NORTH HOLLAND?
I had never been to Amsterdam before and thought that would be a nice place to go in the spring. From the beginning it was all the Tulips they have in the Netherlands that I had in mind.
So I booked a trip for us to Amsterdam and Haarlem in the end of April 2005. Haarlem because of the annual flower parade they have there, which you can read about in the post below.
This was actually one of the trips when the weather was with us too. Or maybe before I had my bad weather curse… It was beautiful spring weather, a bit warmer than we have here in Sweden that time of the year, so oh, we really sucked in all the early spring sunlight!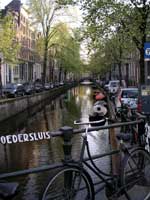 Amsterdam is such an old beautiful city with all the water in the canals and interesting architecture. It certainly has a kind of special atmosphere.
I love all the bicycles in the city. With all the canals and the narrow streets, a bicycle is to prefer as transportation. There are a lot of bikes to rent too, together with maps of tours you can take.
I don't know if it was the spring weather and the fact that it was a Friday afternoon we arrived – or if it's always like that in Amsterdam – but we found the city to be a perfect city just to have some weekend fun in.
I guess we weren't the only ones thinking that, because it was rather lively already at 6′ clock in the afternoon and we did see one man laying in his blood at the street outside a strip bar, so the ambulance came and picked him up. But we felt safe anyway, because they do have a lot of policemen over the whole city all the time.

This is a sign we saw on the door to a bar in Amsterdam. Where else can you see such a sign so openly displayed?
It's seems to be accepted with drugs over there, you could even buy special "Lollypops" in special shops that were supposed to make you "happy".
Though we didn't try it, since we're already happy, high and addicted of our own drug – LOVE

I doubt that you really get happy from using drugs… Getting temporarily high yes, but not happy. Certainly not happy in the long run, we could see a lot of really worned down drug addicts around Amsterdam's inner core. It was quite sad actually.
Of course we did visit the Red Light district in the evening too, can't have been to Amsterdam and not have seen it hah? It's a strange feeling to walk there though, being a woman I mean and see all those half naked women offer their services in these windows with the lights. Made you think about how their lifes really are…
I tell you, it was quite a long lemming line with people walking these streets up and down peeping into the windows. (Sorry, no nude pictures from there

There actually were one man that didn't look were he was going, because he was looking up at some women at second floor, so he walked right into a street light – ouch! That put a lot of smiles on peoples faces…
I did found the people in Amsterdam very relaxed though, don't know if it was because the liberal view of things or simply their life styles.
I saw more of the relaxed, "funny" fashion style there. Sometimes people were dressed a bit like in the hippie times in the sixties, the flower power.
Swedes are tall people, but the dutch's are taller. It was the first time I haven't feel like looking down at people when we're abroad. So, I had to buy two pair of pants, because they were long enough!
From Amsterdam we took the train to Haarlem, a smaller, but very nice town with a lot of stores and restaurants too. There were a lot of people waiting for the flower parade, but still a little more quiet than Amsterdam.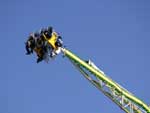 Except that we had our room at the square where they had the tivoli. Luckily, we're not easy disturbed. We had this arm right outside our window, swinging screaming people in the air – through the whole night!
I didn't get to see the famous Tulip fields, but some Tulips and a lot of other flowers in the flower market. And we didn't see any of their wellknown windmills, wooden shoes or cheese either, so I count on going there some more time to see more of what the Netherlands has to offer.
WHY hasn't the day more hours and the week more days – so I can have the time to go around exploring the world more…?
♥ Lifecruisers photos from North Holland 2005 ♥
Lifecruiser ♥ Holland