While we're stuck at home for a while, we decided to at least have some taste of the Mediterranean…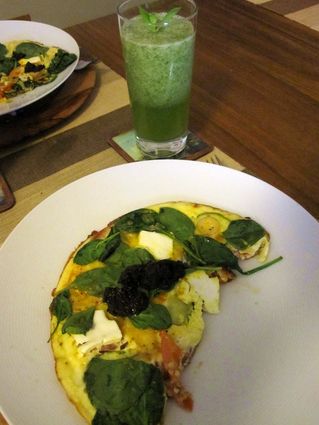 Mediterranean Omelette
(2 portions)
Mediterranean Omelette Ingredients
4 eggs
Salt
Pepper
Olive Oil
1 Tomato cut in slices
Half red onion cut in rings
6 slices Zucchini
2-4 tbsp Feta Cheese
A handful of spinach leaves
Black olive tapenade
How to make an Mediterranean Omelette
Beat the eggs into a bowl. Add salt and pepper. Pour a little olive oil in a frying pan. Immerse tomatoes, onions, zucchini in the frying pan to fry for a minute.
Add the beaten eggs into the pan. Whisk with a fork in the pan edges with just a slight heat on the stove. Add the feta cheese and spinach and cook ready. Fold the omelet in the pan and move over to a plate.
Top with olive tapenade. Our tapenade was from France: Au Bec Fin – a gift we got from Claudie and Pierre. I tell you: the most delicious tapenade!
We were delightfully surprised when we did taste it the first time and luckily it's very tasteful so you don't need to use much.
I think this might be the most delicious olive tapenade I've ever tasted in my whole life! I now guard this can with my life… *giggles*
We did serve this omelette together with the smoothie below.
This green mint cocktail look awesome, don't it? But the taste was a bit too much mint flavored for our taste, but you might love it – who knows…?
There is one benefit from it though: mint is said to have healthy influence on your stomach, so if you have a troublesome one, go ahead and test it: take a green cucumber and mix it in a blender with 2 dl (1 cup) mint leaves and 4 dl (2 cup's) of water.
Me? I think I prefer a Mint Julep or Mojito instead! *giggles*
Lifecruiser ♥ Mediterranean Food