Going on a Mediterranean cruise is a dream of mine right now, when sitting in a chilly location with snow. I just can't choose which one of all the extremely tempting Med Cruises I would choose before the other… I want them all. Just the thought of being cruising on the Mediterranean Sea excites me!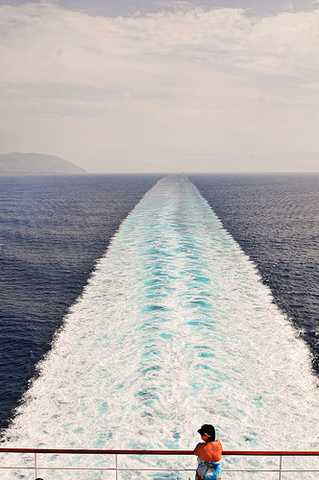 Photo by
Tambako
Feeling the freedom in the picture above? Me too – and the salty sea breeze that always make me feel more alive. The Mediterranean Sea might be my favorite sea so far. So wonderfully bright and clear.
There are so many interesting and beautiful countries around Europe to be explored. Sure, we have been to many of them, but you have to stay for a long time to really get to explore a place so that you feel done with it.
There are Med cruises to many countries, as Croatia, France, Gibraltar, Greece, Israel, Italy, Malta, Montenegro, Morocco, Portugal, Spain, Tunisia and Turkey.
What would be your choices of them?
My choices would be:
Greek islands (unbeatable beauty!)
Croatia (never been there and it look fab!)
French Riviera (have been there but not on a cruise)
Greek islands Crete, Mykonos, Kos, Santorini (yes, me too want to experience the whitewashed houses on the cliffs!) and many more. Croatia with Split and Dubrovnik (world heritage site by UNESCO). The Adriatic coast look gorgeous if you look up images on the internet. Say no more.
The French Riviera is really not my option for a cruise in the high season because it so crowded, but in low season I highly recommend it. There is so much to explore that one could go on for ages. So many French medieval villages and Provence markets to enjoy.
Why not the other cruise destinations? Because some of them we've already explored enough and the other ones we want to explore more by ourselves and take our time doing it. That is not always possible when on a cruise.
I sometimes feel like cruises not fit us explorer to the fullest. On the other hand, as a very nice change, some days out at the sea could be so very relaxing and re-charging the travel batteries. Yes, it can be pretty exhausting to travel – I'm talking about getting to airports and new hotels on schedule.
Photo by
Kevin
Or the opposite to relaxing: getting aboard to party and have a really great time socializing with all the other cruisers with the convenience of not having to use any transportation's to get home after the party is over.
Be sure to choose a cruise ship with yummy menu's, since you don't have the opportunity to choose another restaurant when out at the Med Sea. (Remember our problems to find restaurants abroad?)
Last but not less important: Is it safe to cruise? In my opinion it's as safe as anything else nowadays, you never know when the accident will happen – and it could as well be when you're crossing the street. Pay attention to all safety precautions. Be alert. As always.
Yes, we have to be careful, but not overdo it and stop to live!
©Lifecruiser Love Med Cruises