There are five and even six stars Luxury cruises nowadays that sounds very tempting to book. Seabourn is rapidly expanding lines with their small, yacht type of ships to the most popular travel destinations around the world.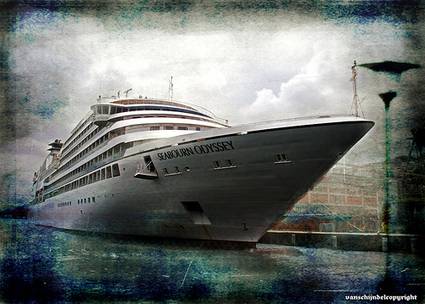 Photo by
Jan van Schijndel
Unfortunately we have not been aboard at any of Seabourn's luxury cruise ships – yet – we can only hope to get invited along on a marketing or promotion cruise… *hint*
For us a Seabourn cruise would be such a perfect match, beginning with the Champagne you get upon arrival – as the huge Champagne lovers we are as our regular readers know very well.
We always love that rather small touch that cost so little, but is of so great importance. If only more tourist accommodation places would understand that too!
Continuing with the different Spa treatments as facials, massages, aromatherapy, fitness services and not to mention the hairstyling Salon make the Seabourn ships extremely desirable for us. After all that relaxing we might even be in enough good shape to actually be able to do some training and swimming in the pools!
Or we would just relax and enjoy life in a spacious sea view suite. We would not mind having a big suite with a balcony to open up to the ocean, experiencing the romantic sunsets at sea – or even maybe the sunrise since we wouldn't have to step outside the suite.
A champagne breakfast with strawberries is never refused by us after a wild night… Just saying.
Cruise ships nowadays has so many facilities, the most remarkable one is that you even can swing golf aboard. Seabourn cruises worldwide golf program offer keen golfers incredible courses such as the Biarritz le Phare and Morocco's Royal Dar Es Salaam. Maybe the only chance to play at such famous courses.
We would love to take one of the Seabourn cruises in Europe called The Dalmatian Coast and Greek Isles – from Venice to Athens for an example – to see several dream travel destinations of ours in the same time.
There are a lot of custom-designed shore excursions when on a cruise ship, so it is not only the time out at the ocean that is tempting us to go on a cruise.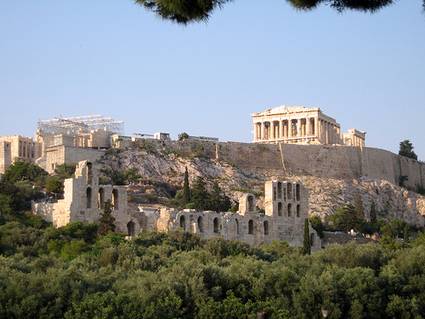 Akropolis: The Parthenon, Photo by
Raptor Alpha
We have always wanted to cruise the Greek islands, since there are so many highly interesting beautiful islands with lots of interesting history and architecture. Love those white stone houses colored with blue – and the gorgeously crystal clear and blue Mediterranean Sea. And the Greek people!
The cruise ship Sojourn now cruises around the Baltics and that is only one of Seabourn's new cruise routes we are looking forward to read more about and perhaps be able to attend in the future since it is closer to our home base.
Soujourn cruise ship comes to Stockholm harbor at the Baltic harbors cruise which ends in Stockholm the 3rd of September 2011. Maybe we can catch it on photo at least since we will be back home again then.
There has been a lot of increasing of bigger cruise ships in Visby harbor the past years and around the Nordic countries and Baltic Sea in general, both Hurtigruten in the Norwegian fjords, to Finland and around the Swedish archipelagos.
The latest cruise we did – if we can call it that, was at the worlds oldest fire-armed ship in Visby last week (which you can read more about in the link in the end).
Have you been at any luxury cruises or any cruises at all? Tell us all about it, we're dying to hear about it!
Some of our earlier Cruise-related posts:
The World Oldest Gun Sip: A Medieval Cog Ship
Bargain Cruise Ships Tips
A Thames Tour of London
Beatles Tribute Cruise 2012: Dream Cruise for Music Lovers
ARC 2010 Atlantic Rally Cruise: Gran Canaria – Saint Lucia
Cruise to Helsinki, Finland