This post is about Love combined with travel (old content for some of you, sorry) the two most important things in my life. I'll start with our engagement trip, which was quite unusual. Many people travel to tropic islands or some other "supposed to be" romantic place to be engaged – or married.
We did go to our summer paradise island Fårö, but in the middle of the winter, totally wrapped in thick winter clothes, just our eyes were visible! It was the 24th of February (2004) and cold, very little snow, but extremely windy. It was my first time on the island, but I instantly loved it, despite the winter.
It's a very deserted island during winter. Only around 650 persons lives on the island permanently according to the records and in reality even fewer. In the summer many thousands visits the island…
Just start your imagination: there were we, the ultimate love couple, totally alone on the Norsta Aurar beach, that reaches at least 3 km (about 1.8 miles) and we had walked to the middle of it. The power of Love in the sunset, only listening to the sound of the ocean – and our hearts… We truly felt like we were alone in the world!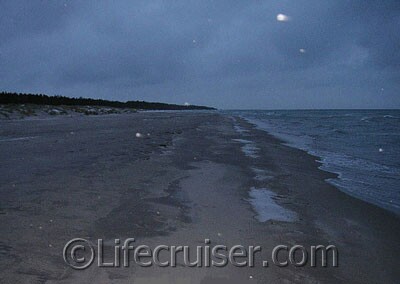 Who said one must go to tropic islands to experience romance?
Such a magic moment, the toast with champagne for our future together, putting on our engagements rings on (left hands ring fingers) – trying not to get any the blowing sand in our glasses or mouths. It's not easy to take photos in the dark with water and sand flying around – and between all the kissing… *giggles*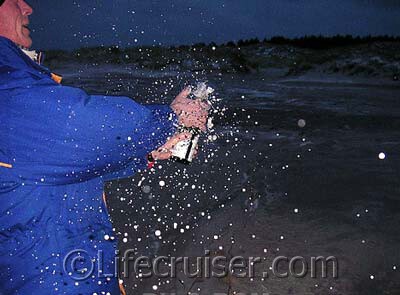 It does look dark and gray yes, but think about it: simply perfect for newly lovers who wanna wrap around each other all the time, whether it were outdoors or indoors…. *giggles*
Some explanation before reading more: here in Sweden it has been rather common to be engaged, but even if you're engaged, it's not said that you automatically has to be married as a next step. Many couples doesn't even get engaged, they just live together anyway.
We were engaged for a couple of months and then we took a flight to Paris in the spring, around the first of May. We stayed in small hotel in Montmartre, which is a wonderful area with a lot of "the right" atmosphere. I can't say the same about that hotel though, but for us it didn't matter that the hotel weren't quite living up to our standards, because we only had eyes for each other.
We did see the most of Paris, but it must have been too early in the spring, because we didn't believe our eyes: no love couples in Paris…??? We stayed for 4 days and only spotted one very young couple down by the Seine, we were the only ones living up to it's reputation as being the city of romances!
Especially the day we went to see the Basilique du Sacré-Cœur (Basilica of the Sacred Heart).
Yes, it was below there Mr Lifecruiser proposed to me, on his knees despite lots of people passing by – and this is after I said yes…
I was wondering why Mr Lifecruiser were so different than usual at the first part of the trip, but then I understood. All the trip he had searched for a proper place to propose!
Our wedding in 18th century fashion style were held the 28th of August 2004 at the Drottningholm Palace Church, where the Swedish Royals live. We thought of inviting them to the wedding at first, but decided not

On honeymoon we went to the fantastic island Crete, Greece biggest island which I truly can recommend with a warm heart!
There is so much to see at Crete, so many interesting villages, breathtaking scenery up in the beautiful mountains, great restaurants and the crystal clear sea. No wonder people keep coming back to this island! We will too, some day.
Come to think about it, all our travel have been like a honeymoon…
Captain ♥Trip Lifecruiser