"If you are together with very many persons, you could let them go through some difficult tests. Then you can see which one is best to send shopping and who gets all the things you want".
[ Nikloine, 7 year ]
Mr Lifecruiser is outstanding on shopping EXACTLY what Mrs Lifecruiser want…. Maybe that is the main reason they are married….? What do you think?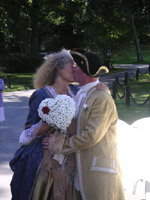 Hm….
- No, every one that visited their wedding, can not deny the ultimate love vibrations between the two that day!!!!
They NEVER stopped kissing!!!
Break….
Break…
Break…
The guest couold not get any sense out of them, just the love vibrations and smiles….