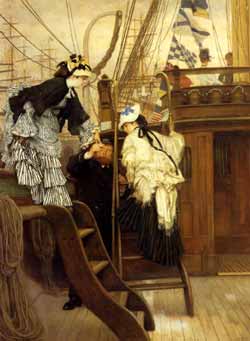 Welcome aboard mates - roam around an' let us know what ye think!
You do have TIT's (=TIckeTs), don't you? No? There is still some left. Read about Lifecruisers cyber cruise event here.
Relax, have fun, enjoy. No lifejackets needed. Yet. No drunk captain. Or nude. Yet. Just some crazy crew and hot brew…. and YOU

This will only be one of several stops in Stockholm - or even Sweden, so there will be more later on the cruise schedule.
After you've packed up in your luxurous cabins there will be mingling with (a lot of glasses of) Dom Perignon and a Swedish smorgasbord on topdeck.
Time for some heavy seightseeing of Stockholm - even called "The Northern Venice" because it's 14 islands joined by 53 bridges!

Click to enlarge and hop to my flickr photo set with more photos of Stockholm!
Short facts: 760 000 inhabitants (greater Stockholm 1.900.000) of Swedens total 9 millions, dates from around year 1252, 1/3 water, 1/3 green, 1/3 urbanized, 38 parks, 14 islands joined by 53 bridges, most narrow street 35 inches between the walls, 54 golf courses, archipelago with 24.000 islands, up to 2500 restaurants.
Read Lifecruiser earlier post about Stockholm here.
This evening we will hold a party on the Lifecruiser - not only a welcome aboard party, but a special birthday party for one of our special friends and A-Team Cruiser: Debbie, who's actual birthday was this wednesday but we'll celebrate it tonight!
Happy Birthday Hugs Debbie, here are some gifts:
We've built a bigger cargo room and more power in the engines too be able to sail with all your stuff (read Dom Perignon boxes & gifts) you're bringing, heavy machines, loads of toilet paper, tampons and Sannis 436 pair of shoes!
Oh, and why not say out loud the real reason for you taking that binoculars with you? To look at the gorgeous ship crew that's going to pamper us on this cruise! Ha! Whalewatching?! Really? Busted!
Now be aware, rumor says that Melli and Mar is going to share cabin! Danger alert!
As you might know, Sanni has that wooden dick pipe that's my favorite already of course. We'll get plenty use of that one. She has to do some blowjobs (now, no dirty thinking - or dancing!) = give the signal for dinner, dancing and walking on the plank with that one.
No paparazzi manners are allowed on the ship. I must urge as a captain of this ship that NO pictures of the DRUNK captain - or NUDE - will be allowed - so you'll without mercy be walking the plank!
…and the planks been oiled fer them that don't o'bey the ol' Captain!
Oh, and you have trained on your pirate-songs haven't you? We'll never know when we're going to be boarded by pirates!!!
You have to understand that we have to have that security guys go through all your stuff before set sails, do you? We want you all to feel safe aboard.
So if there is anything you feel the slighest worried about in your luggage, please tell us before so we can get our hands on it for our own use put it away somewhere safe during the cruise.
Sorry R'acquel, that Tiger balm that you like to sniff to get high on, didn't pass the security control….
Machines and tools will, how ever pass the security without fuss, since they can come in handy in certain situations. Though I'm very suspicious of what R'acquel really is doing with that miniature drill-press and the vacuum cleaner - after all, they do create heavy vibrations…
Ladies, feel free to bring all the dildo's you want, whether or not they are human or not

You might need them to get hot enough when we arrives to Maribeths Alaskan port!!! Or to hold hands with since Irish Church Lady offer us a mystery destination….
Special treats on the cruise ship (so far)
- The Electric Lifecruiser Orchestra (ELO): Sanni - Wooden dick pipe, R'acquel - Violin, Mr Lifecruiser - Piano. Any one else care to joyn?
- I'm positive that if we all fill up their Schnaps glasses and cheer all the time with them, we can get Gattina & Mr Gattino to belly dance for us, since they have been practising a bit on their Egypt trip recently. Rumor says that there was some Schnaps involved when they met each other, so we'll get them in a very romantic mood then huh?
- Lot's and lot's of cat purr - and not only from the cat's…. *LMAO*
- The Lifecruiser Casino: - for all gamblers, all kind of gambling is allowed. Bring all your money! We need it

- Gourmet meals: The most famous and experienced Chief cook is hired and all the food gourmet ingredients is filling up half the cargo room. We do plan to fill it up at the other ports too.
- Small shopping area: Fabulous small and very unique boutiques even though other ones will wait us on the other ports. We do need something in between!
- R'acquel Designs will offer you "beautiful couture for the ladies in case they can't find EXACTLY what their hearts want & dream of because nothing ever fits well or is other-bodied who look nothing like size 2 supermodels".
- The Nad's Naughty Bikini Wax - R'acquel has promised to teach men & women the important lessons of how to perform the DIY Brazillian Wax at home or in their cabins!
- The Spa area: Whirlpools with floating pool bar, massage, manicure & make up services, hairdressers, to pamper us carefully. Cruisers, we have a special mission: to get YellowRose healthy as a teenager again. Even Tricia has earned this after all her stomach & camera pills experiences.
- Need warming sweaters? I'm sure Debbie will knit you some awesome creations if you can't find a partner to warm you up

- The Crazy Hat Parade - Be sure to bring some of your craziest hats so Melli gets some compition, she is bringing at least 20!!!! Date will be announced later, but in advance.
- The Big Cruise Ball - That might sink the ship. Date will be announced later, but in advance. Though we'll probably party all the time anyway!
CHEERS EVERY ONE!!!!
Opening Dom's… *bang* *spraying the ship with Dom*
Who want to help us hoist the sails….? Do we have any Rigging Monkey among us?
We're pulling in the gangplank Friday at midnight CET. Be sure to be aboard by then or you'll have to swim out to the ship

No sneaking out peeing or romancing, we'll leave you behind…
We'll continue to party until all of us have passed out and probably even then in our dreams

Lifecruiser set sails and weigh anchor!!!
Next port: Oslo, Norway's capital.
I'm sure TorAa & RennyBA have done all the shopping before the cruise right (= a lot!) and will offer us some true Norwegian delicious feasts whether it's shopping or dishes!
The Cyber Cruise Scheduled ports
NOTE: This post may be updated several times!