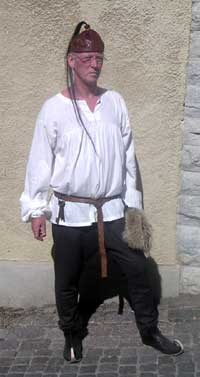 Join Wordless Wednesday
To see my newest bloglayout push F5 button!
Since it's me that is holding in the Crazy Hat Parade contest I think it's best that I stay out of the competition, but I think that Mr Lifecruiser deserve to participate anyway.
Isn't he cute in his leather hat with the long hair coming out from the top? He was mighty proud of it when he did wear it at the medevial festival at Gotland 2005 – he did fling his hair all the time – quite unusual feeling for him

Every one can participate in the hat parade even if it's only A-Team Cruisers and A-Swab Team contributors that can be drawn as a winner and receive a cyber prize from Captain Lifecruiser.
All contributors report here wednesday in this combined Wordless Wednesday post. No rules other than that, just give us the link to show off your crazy hat

Let's have some crazy fun!!!
Captain Crazy Lifecruiser
UPDATE: Notice the keys hanging from his belt? that is the keys for my chastity belt! *LMAO*

Next port: North America Surprise!
Do you want to hop aboard at next port?
Read about Cruiser Grades.
Read more about Lifecruiser cyber cruise.
Cyber Cruise Calendar 2007
Cyber Cruise Souvenirs

Lifecruiser Cyber Cruise in Technorati