Today is Lifecruiser Travel Blog's birthday. Lifecruiser.com domain name and blog has existed for 7 blogging years, building up a rather big library with articles during the years, becoming wellknown by many persons online, building up a good reputation with many awards and readership.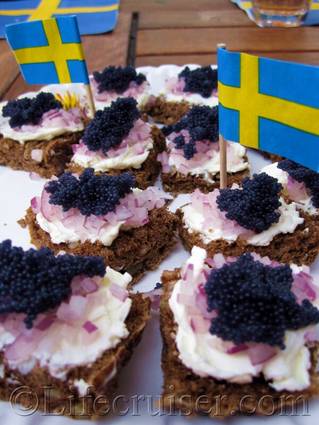 Lifecruiser.com domain name has existed since 01 Apr 2005 11:52:00, but the blog was not installed and ready to post on until the 3rd of April 2005. We have been two to write the posts, at least two minds even if it's only one that has used the keyboard…
It has been fun, interesting, exciting and educating 7 years for sure and you know what?
This is NOT a post to tell you that I've decided to quit blogging, as so many others have done. No, the Lifecruiser.com domain name is paid until 01 Apr 2016 10:52:00, so you will have to stand with me for a long time yet even if the blogging phenomena would become dead long before Lifecruiser!
Lifecruiser's first year of blogging
Our first year blogging was more to just have fun and maybe a bit childish, but we did have an awesome time online with our blogger friends around the world!
Just have a look at the titles of the posts in the list of our 1-years celebration, you will guaranteed smile – and giggle if you also take the time to read them: Lifecruiser Blog 1 Year.
Lifecruiser Photo Focused Blog
From being just a fun blog, it slowly developed in another direction:
Lifecruiser Photos did take over the main focus for quite a while during the years and after a while it kinda naturally did glide over to be most travel photos as we were traveling extremely much for several years.
Lifecruiser Cyber Cruise Parties
For a while when we were not able to travel for several reasons, I even started a Cyber Cruise, a kind of blog carneval, where we did visit each others travel/cruise blogposts as if we were participating in each others trips.
- and oh, did we have a lot of cruise parties! The Champagne were flooding…!
It was also that way we met some of our dearest blogger friends (YOU?!), which we also have met in real life many of them by now too and some several times. Internet is a great place to make new friends you should never have been aware of otherwise.
The birth of the real Lifecruiser Travel blog
It was not until after quite a while the real travel articles showed up here – when we had time to contemplate our trips and sort the travel photos properly. And voila! A travel blog were born!
The travel articles and photos has mostly been about and from our trips within Europe, but also some about North America and South America, mixed with our more close to home destinations and of course much from Scandinavia, Sweden, Stockholm and Gotland – our summer paradise island.
Our perhaps best travel articles are not yet written, I'm sure… Maybe they will be this year…?
Lifecruiser Travel Blog's future plans
We do have our usual summer island trip planned as well as a cruise to St Petersburg soon and a more interesting Europe trip by car planned… but what are our plans for the future for Lifecruiser Travel Blog generally?
Obviously more travel reports as well as travel photos, though I think it will be of even more quality from now on. More serious travel advices, tips, reports and selected photos with better quality.
How about you? Are you planning to continue blogging for long too? Tell us all about your plans!
Happy Birthday Cheers, my dears…
©Lifecruiser ♥ Travel Blog