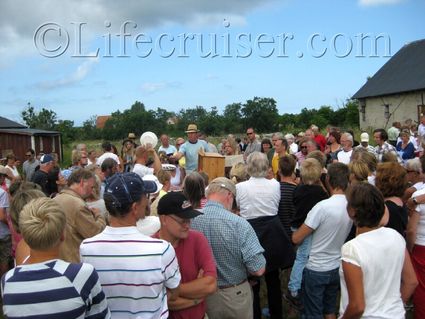 Last Saturday we went to Lauters (still at Fårö island) at a countryside auction. You know those charming ones with lots of old things – crap as well as real gold findings.
We love to just stroll around and have a look at the stuff – you never know what you're gonna see there – as well as the wonderful surroundings.
This below is the nearest neighbor house to the auction. An old friend to our farmer lives there. I just love this house.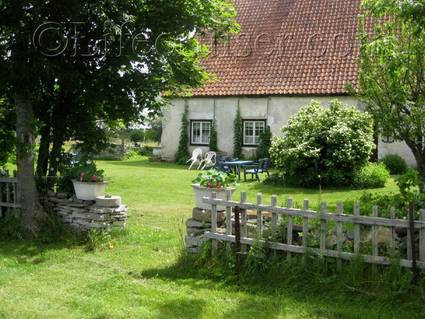 I love spotting old objects you haven't seen in ages. Like this old sledge below.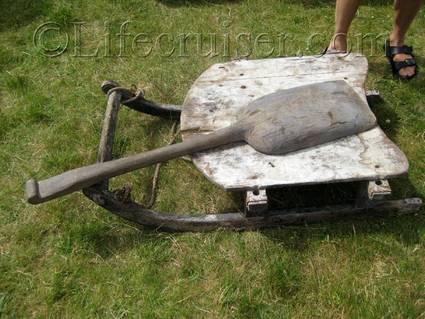 …or what about this old row boat…? Could come out handy with this rainy summer we have with floodings here and there! *giggles*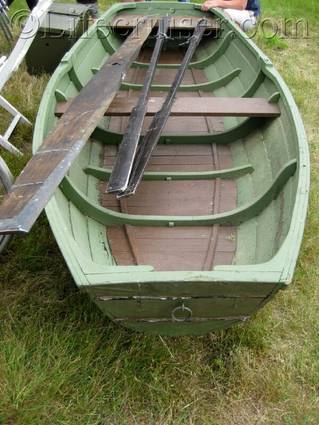 I always love all old cofferts. I wish it were practical to have an old one when out traveling. Wouldn't you want one with such a history rather than a brand new one?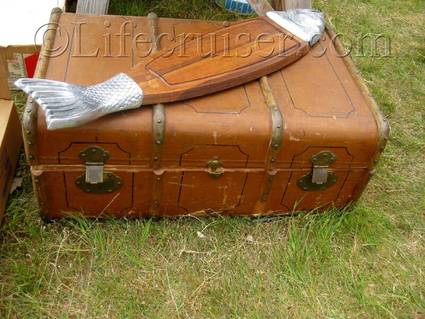 Then I spotted the obligatory old picture of the Swedish royals when we had King Oscar II. So common in the old days. I've seen many different ones during the years.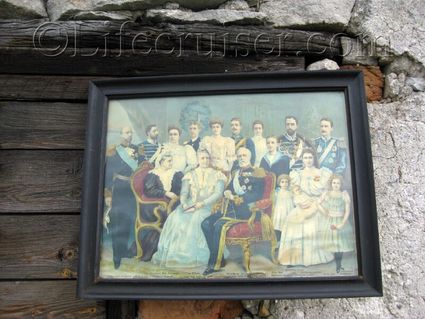 I wanted to bid on two objects: two different bicycles, but we didn't wait for them to be announced – it could take hours.
First this red bicycle that were in good condition and could be used at once. We wouldn't mind having bicycles here at the island.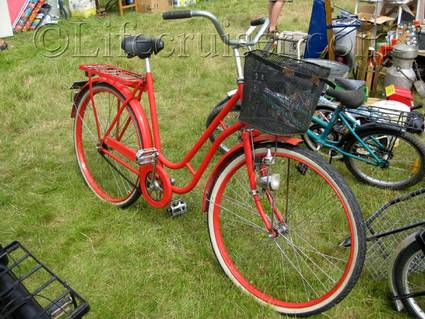 The other one were in really bad shape, so it would require a lot of renovation before using it – especially new tires, but still it were something with it.
It's the one in the front of the photo. I so wonder what it would tell me if it could speak…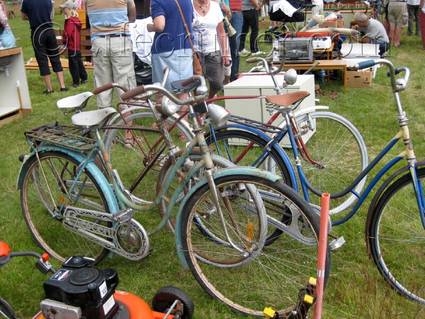 As the weather has been so far, it was no loss that we didn't stay to bid on them… I don't fancy cycling through water!
All Sweden have had heavy rain the latest 24 hours, with floodings at a lot of places. The worst place were in Borlänge where it came 85 mm.
Here at Gotland island it has been up to 50 mm "only" and stormy as h*ll. I refused to go to the outdoors toilet yesterday evening. I found a bucket. I say no more.
Maybe we should have bid on that rowboat after all…. *giggles*
Have a look at the Fårö weather report at yr.no.
Lifecruiser ♥ Countryside Auctions