We finally got return tickets and got aboard the last cruise leg Helsinki – Stockholm on our latest cruise trip, which surprisingly turned out to be with two different cruise ships and even cruise lines. We had another surprise on Silja Symphony too, which I'll tell you more about.
As soon as we had installed ourselves in our cabin at the ship, we went to get a walk on deck, since it was such a lovely weather. Sun deck is never a wrong place to be when the sun is shining! Though before that, something fun happened…
When walking along the cabin corridor I noticed a man standing in the end of it, leaning on the wall, smiling and looking at us while we were walking towards him. I though it might be some kind of cabin crew or something since we were so close to the more luxury cabins, but coming closer to him I started to find his behavior more strange. He was looking at us in a way a crew member would probably not do and his smile got bigger and bigger….
When coming very close to him, about a meter or so we finally took a real look into his face and suddenly it came very clear: we know this man! Yes! It was a friend from our summer island, which we meet every summer when he and his family rent the fishing cottage from our farmer! Such a coincidence to meet at this cruise ship, right here, right now!
Even more of a coincidence were that he had been on a bus tour at the exact destinations as we had! How close we had been every day without knowing it…. Sometimes it's so strange! Of course, as the well equipment guy he always is, he had something for us in the bag: yes, he has a tradition of making toasts with us, with whiskey! Skål x 3 for hubby, one for his belated birthday you see…. ha ha…
After that we went to the sundeck to get some… Champagne of course! Cheers my dears! Very suitable were that the theme at this cruise were: Fiesta! So we had Spanish music on the ship and very skilled Spanish dancers in the evening show – oh, how we enjoyed that!
We had a very pleasant cruise, the Baltic Sea were calm, the sunset were as nice as it can be… This time we arrived safe at home without any sea sickness! Hooray!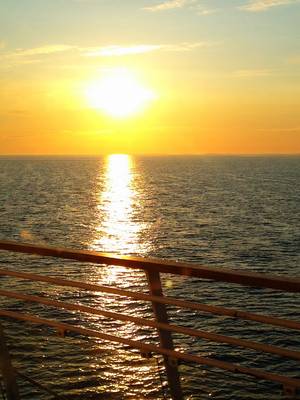 Though there was something that was not as it should: now hubby had got a terrible sore throat… oh, no, poor man! Was there no end on the bad things connected with our Baltic Cruise trip…? It really has been a mix of either very bad or very nice things on this whole cruise!
…and I can mention that me too got his cold when we arrived home, so we were sick for a whole week after coming home, hubby worse than me and he is still coughing.
I think he might need some more whiskey or what do you say? Ha ha…
You can see all Lifecruiser photos of Silja Symphony 2012 at Flickr.
Stay tuned to hear what we did learn from the cruise experience Stockholm – Tallinn – St Petersburg – Helsinki and what we really thought about it plus all the pros and cons…
©Lifecruiser Love Cruises
Related Baltic cruise posts by Lifecruiser:
How we escaped from a cruise and ended up in jail… Part 1
How we escaped from a cruise and ended up in jail… Part 2
Our night in Katajanokka Jail
Baltic Cruise Stop Tallinn – UNESCO Cultural Heritage
Saint Petersburg Souvenirs
The Idiots Sightseeing of Saint Petersburg
Photo: Illusionary Window
Baltic Cruise Stop Helsinki