One thing I was unaware of before going to France, was how many fabulous medieval villages there are there! Many of them placed upon a height with such beautiful views. The last day we had at Claudie & Pierre's place we went to one of them: La Cadiere.
La Cadiere is just some kilometers from the other medieval village we visited earlier, Le Castellet. Even this one surrounded by wonderful vineyards of Bandol AOC.
The medieval villages in the South of France seem to be everywhere there. How long would it take for us to explore them all? *giggles*
We went there last summer in August together with Pierre, Claudie, her sister and husband, wonderful persons they too – they all feel like family now.
We just love to walk on those charming old, stoned and narrow lanes, imagining the good old days…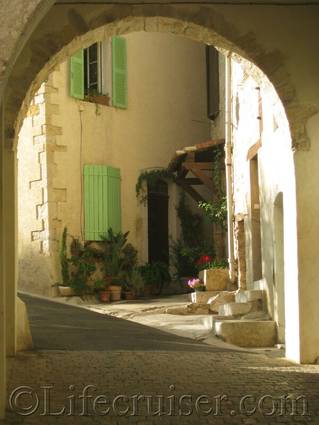 Though there is only one problem: it's very difficult to get photos of the buildings when the streets are so narrow!
I could have taken off with this one below since it's very hot in Provence in August! So wonderful!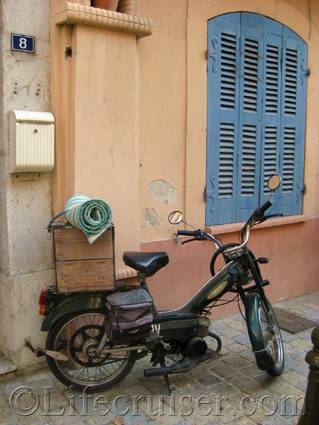 I bet they thought we were crazy: we were like fanatics about all the wonderful windows and doors we could spot in this village, running around taking photos of all of them.
I hope they didn't think we were too boring…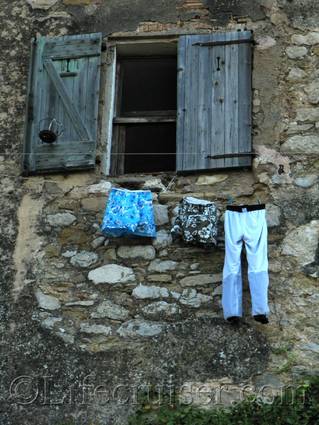 Who can resist to take a photo of this fabulous summer sign…? *giggles*
For us, doors and windows has personality. The time is shaping them too, giving them lots of charm. You might only see a window, we imagine what has happened behind that window in all those years!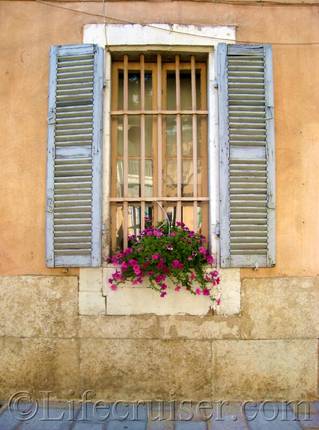 Later on we will show you all our doors and windows photos – what a fantastic diversity of them.
Check in the slideshow below for more charming photos from La Cadiere – and some photos with some known faces.
This was the last excursion we did together, the following day we left Claudie and Pierre's home to go on by ourselves. Though we had big difficulties to leave… We had such a great time together that we didn't want to leave.
Stay tuned to read more about our roadtrip!
Lifecruiser ♥ La Cadiere
Earlier posts in this serie:
Isle of Gaou, France
Dog on vacation, kayaking
Bandol Provencale Market
Big Fig Dig in France
French Cooking a la Pierre
French Art Gallery Exhibition
France Bandol Beach Sunset
To Tour Toulon Too
Le Castellet Medieval Village
Vintage Marseille Soap Posters
French beach leach
Bloggers toast in France
Bloggers finally meet in France after three years of blogging
French blogger host lost
Start Fart of France Trip
Marseille Air Lair Stare
Pastis in Provence Southern France
Photographer beholder but not older
Connect Hotel Skavsta Airport