We've always wanted to go to one of the Hawaii islands – how about you? So we decided to dream away to one of them. With help from Jake at Villas at Poipu Kai (who get some free promotion this way), it is possible to start this serie of posts: one for each day for a week.
This could also serve as a suggestion for anyone that wants to go there.
One day we'll make this travel dream come true!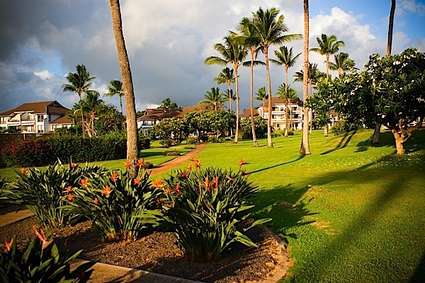 Day 1 – Arrival in Kauai
We'll touch down at the Lihue international airport in Kauai. One good thing is that we don't have to worry about planning the trip around a certain season, because Kauai is beautiful all year round with average temperatures around 70-80 degrees.
Right when we get there we'll feel the "aloha spirit of relaxation". The sun is shining, the orchids are welcoming us – and every car is going 15 mph slower than normal. In Kauai, the only thing that matters will be the present moment.
We will like to secure a rental car before we arrive and keep it throughout the trip… There is always interesting roads to explore and you'll never know what to find!
The most favorable locations to stay are on the North side of the island in Princeville or a beach resort in Poipu just 20 minutes south of the airport.
Favorite destinations in Poipu are: The Grand Hyatt, The Villas at Poipu Kai, or the Marriot. I think we would prefer to stay in the villas at Poipu Kai.
Generally flights arrive after dark, so since we're hungry we will make sure to stop and get a bite in Lihue. After that we will drive to our hotel and kick off our shoes…. ah….
Aloha and welcome to Kauai!
Lifecruiser ♥ Kauai Paradise
To be continued tomorrow….