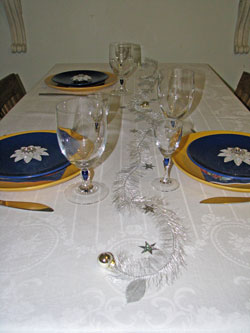 Höganäs Keramik lead-free stoneware plates,
which started to be produced in Sweden 1909.
(The glasses is French Chrystal though)
You have already read bout the wrapping of Some Swedish Christmas Gifts we gave Mr Lifecruiser's daughter in the post below. Now we come to the rest of our Christmas!
The Evening Before Christmas Eve
Mr Lifecruiser's daughter came here the day before Christmas Eve and we had a really nice time, eating and just enjoying. (She celebrates Christmas Eve with her mom).
So what is on our Christmas table nowadays?
To eat: Christmas ham (main course), home made mustard for the ham, boiled potatoes, turnips salad, pickled herring several sorts – some with sour creme and chives, sausages, Swedish meatballs, malt bread, Swedish cripsbread, rice pudding (with cinnamon).
Swedish home made meatballs is a must on the Christmas table. OK, it almost killed me (because of my back) standing there and roll the meatballs, but it's sooo worth it! No factory made meatballs in my home, oh no, that would be like a death sin…. *giggles*
Not to forget, Mr Lifecruisers speciality: Jansson's Frestelse (Jansson's temptation) which is a kind of creamy potato gratin with brisling anchovy fillets, eg. sprats. It's often translated wrong using the word anchovies instead of sprats. That is because pickled sprats are known in Sweden as ansjovis since way back in time. The real anchovies in Sweden are called sardeller. A bit confusing yes.
The secret to a tasty Jansson is the quality of the ansjovis fillets (sprats) and to chop it in very tiny pieces. For us, the only possible choice is Abba Ansjovis filéer, but sadly enough they seem to have ceased to exist in the stores nowadays. A real pity.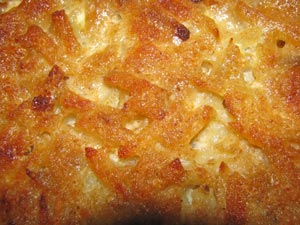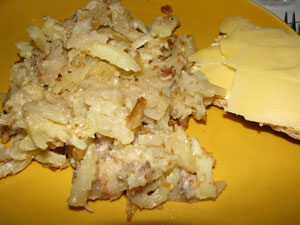 Mr Lifecruiser's Jansson's Frestelse Recipe
4-6 portions:
9 medium potatoes (of the mealy kind, ex King Edward)
2 medium onions
20 Abba's ansjovis filéer (sprats) = 2 cans of 100 g each
3 dl whip cream
Bread crumbs
7 teaspoons margarine
Oven: 225°C
How to make it:
Peel the potatoes and the onions. Slice the onions thin and the potatoes into thin sticks, roughly 0,5 cm circuit and in the potatoes length, preferably in a food processor. Chop the sprats into very tiny pieces.
Grease a large oven proof dish. Place a layer of potato strips at the bottom of the dish. Next a layer of onion followed by a layer of sprats. Repeat with layers of potato, onion, sprats and finish with a potato layer.
Pour over two thirds of the cream. Spread bread crumbs evenly on the top. Put a the teaspoons with margarine on the top.
Bake in the middle of the oven for about 40 minutes, then pour over the remaining cream and let be in the oven for 10 more minutes until it has a golden color.
And who was this Jansson that did fall into temptation?
No one know for certain, but there are two theories. One is that is comes from the 19th century opera singer Pelle Janzon, who was a real gourmand. The other theory is that came up in the periodical Gastronomisk kalender where Gunnar Stigmark claimed that it came from a film called Janssons frestelse in 1928 and from there were picked up by his mother and then to other households and eventually into cookbooks. (source Wikipedia)
To drink: Christmas brew (dark beer), Lager beer and Snaps.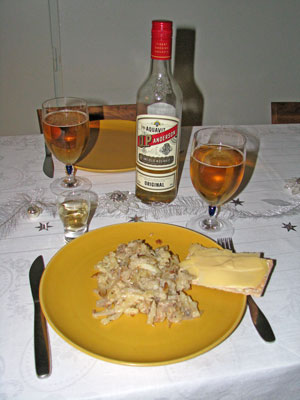 The snaps is O.P. Anderson's Aquavit, Sweden's oldest and most enriched aquavit, original recipe from 1891 with a taste of cummin, anise and fennel, which has been produced with craft production techniques and stored for 8 months in oak barrels to get the right mild taste. It has won gold medals in several international competitions during the years.
One thing I didn't know before was that it also is KRAV-marked, which is a Swedish way of marking it as an ecological produced product. Nice to know.
(Schhhh! Don't tell any one, but for me, the snaps favorite is Aalborgs akvavit from Denmark!)
Any one of the regular cruisers who can guess where all the other photos of the food are? *giggles*
Right! We didn't remember to take any photos of the Christmas table when all the food were on it! No, I swear it was NOT the snaps! This Altzheimers Light really is killing me sometimes…. *giggles*
This time I didn't even have any chance to take photos of the empty dirty plates like I sometimes do, since I had already washed them up! Darn…
So what to do? Well, I did at least arrange some photos of the Janssons Temptation for you afterwards, which you simply have to be satisfied with.
Mr Lifecruiser's daughter was here to around midnight, but we didn't get to bed until 02:30 in the morning…
Oh, did I forget to tell you what she did give us for Christmas? All the things we wished for, except for the Corvette Stingray 1955-1957 that were on Mr Lifecruiser's wish list…. *giggles*
Which was Campari for our life giving drinks we use to make, books with funny questions and answers in making some good reading, Chocolate and lot's of lottery tickets. Actually we have 4 small wins from that lottery tickets, but probably we'll just change them for new lottery tickets.
You'll never know… If we suddenly leave for a trip around the world, then YOU know! *giggles*
Christmas Eve
At Christmas Eve, we were visiting my Mom at the elderly home where she lives. I think she is so sweet in this photo, a real grandmother dream. Of course I may not be objective in this question since I love her so much…
This was the first year that the relatives were allowed to eat Christmas dinner together with the elderly at her ward, though we were the only one there sadly enough. This was taking place in the afternoon. I felt really sorry for the other elderly, we did our best to cheer up the mood there, but you could tell that some of them were a bit sad.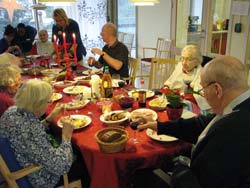 We can clearly notice that the residents get cheered up when we're there and it doesn't take much. It's very rewarding.
It's a pity we can't let my Mom celebrate Christmas in our home. She need special equipment to be lifted since her body (literally) is falling apart from the inside in the joints and can't have the strain of a normal lift to and from the wheelchair. She can't sit up that long in her wheelchair to be moved somewhere else.
At Christmas Eve, she was very tired all the time we were there, but she did struggled well to stay up.
So we just have to do the best possible of it, haven't we? We were happy that she was rather well, considering that she just had finished an antibiotic cure and had an ascertained shortage of blood. Poor Mom, so much sickness and yet she is so easy to get to laugh. I really admire her big.
We had bought some Christmas gifts for my Mom too, but it's not easy I tell you, to a lady of her age who has almost everything already, can't see almost anything and don't have any wishes for herself….
She can still feel, so she got very soft, very Christmassy red socks, a hair conditioner spray and a face lotion with anti wrinkle effect. She thought that was very funny with the wrinkle effect at her age. We were joking about that and she laughed so much that we decided to call it skrattsalva (laugh lotion) instead.
The hair conditioner spray were functioning real well to get control of her hair. When she has laid down which she often does during the day, her hair has a tendency to be quite wild looking. I was joking with her asking if she had been on a wild party during the night. She loved that of course.
She needed to rest since she had been up all day, so we went home to have a peaceful Christmas by ourselves. We could have gone to my brother in the evening, but we felt that we wanted to have a quiet evening for ourselves.
There have been so much stressful and unhealthy things happening this autumn, not only my Mom being ill several times and are right now (which is why this post is late), but even other things which I haven't been able to write about here out of consideration for the involved persons.
We had a very peaceful and cozy evening at home eating a more modest Christmas dinner with the left overs from the day before. We always have such a nice time together. Lovely love time for the Love couple

Oh, our Christmas gifts for each other? That's a seeeecret….
*teasing you*
OK, I'll mention one of the more mentionable ones: a trip somewhere in Europe as soon as the weather gets better, maybe in the beginning of March.
Something we really are looking forward to!
You can also get some information about Swedish Christmas traditions from my post last year: Swedish Christmas Traditions and Lucia with Glögg & Lussekatter.
Visit Renny who tested a ready-made Jansson's Temptation from the store, though I must say that home made can not even be compared to the bought ones as so often is the case.
Captain ♥ Lifecruiser
Pssst. Also read about Gattinas Christmas in Amsterdam!