The 3 hours ferry ride over to the island Gotland was very calm and went fast. There were a lot of dogs and horses on the ferry, some events in the weekend obviously.
We saw dogs in all shapes and sizes when waiting in the ferry line in the warm summer weather. I wish I had taken a photo of them. The most striking I noticed where Dalmatians and Grand Danois.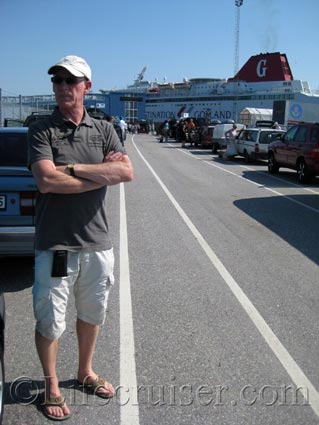 Above you can see Mr Lifecruiser waiting at the ferry line. The ferry in the end of the photo.
The vacation mood did struck as soon as I sat my foot on the island, so I haven't felt like starting up my computer at first and then when I wanted to, we had a major power failure that took some time to fix.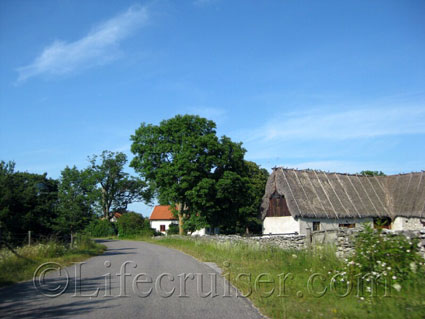 We had very nice weather at first, then the cold front did hit the island and it has been very, very cold. Icing winds. Today we've had rain all day long, something that is not that usual for this island. We've heard that all Sweden have had bad weather – as well as Norway.
I hope they're right when they say that the heat wave from Russia is on the way to Sweden – I have had double pants on me today! *giggles*
We have been around the island to check that everything is the same. Small changes here and there, but not so big ones. One thing: the cafe is not run by Selene and Paco this year, because they're expecting their second child in July. We'll miss them very, very much. Such a lovely family.
The days passes by very relaxed with some small chat moments with the people on the farm – the same people arrives here year after year, just like we do, because it's such an awesome farm. The Norwegians arrived early this morning.
We've been back twice times to Fårösund – at the northern tip of the island Gotland, to shop some things we needed and to do something while the weather was bad.
There will come more soon, especially photos.
Happy summertime!
Lifecruiser ♥ Fårö
[wp_geo_map]